Sanctioned
December 29, 2010
Warm shades of red, chocolate and gold overwhelm the senses. Walls of wisteria and lilac encompass the room. Bamboo sprawls across the floor, illuminating the room I call mine. It's the centerpiece of my day, the quiet time spent before the storm of creativity. It's my place of deep thought, of inner peace. Nothing can bother me in this room.
My bedroom. It's my inner sanctum. My place of deep thought, of peace. No one can harm me here. It's truly a safe place for me. La, ti, da…my guitar strums to the beat of a generally unknown song playing in the background. Scratch…Scratch! Scratch! Pencil and paper simultaneously unite. Correction forms, a result of such a unification. This inviting room has invented and destroyed. Her pillows have caught my tears. She's heard my laughter and swept away the silence. She's swallowed my fear and lengthened hope. She's a mountain where there is distress. She's my sanctuary.
Everyone needs a sanctuary. Whether it is an actual place, an item, or even a person that bubbles forth comfortable feelings, every single person on this planet has a sanctum. That sanctum, some place or something that they deem holy, private and for their eyes only, is revealed only to the most privileged of folk. Why?
Humans were created with a need. This need can vary from the need for alone time and the need to think to the need for companionship and the need to talk. They also need to trust. We as humans need to trust other humans. In order to do that, we need something to trust them with. This is where we come back to the idea of the sanctum, and the privileged. Who do we deem as those privileged? That depends upon you. Let's look at a few aspects of human relationships, for these relationships, for some people are the only sanctuary they have ever known.
Siblings. You can pick your nose, you can pick your friends, but you can't pick your family. Do you have this attitude towards your siblings? Stop it right now! Siblings can be your best friends if you let them. They are a gift to us. "I love you". That's the first step. "The first step to what?" I know that's what you just said. It's the first step to being more than just siblings. You're becoming what you will be for the rest of your lives. Hmm…
Parents. Oh no! I said the p word! Parents gave you the most amazing gift they could. What are you doing right now? Oh you're reading this. Parents gave you eyes to read, ears to hear, and a mouth to speak. They gave you life! They love you more than anyone ever will. Think about that next time you say "I hate you! You don't get it!" They do get, and they do understand you.
Friendship. This is the sanctum above all others. A true friend is there for you always, and never gives away your secrets. She holds your tears in her eyes. She carries your laughter in her throat. She destroys the silence with her voice. She eats your fear and replaces it with hope. She's your mountain during your distress. She's your sanctuary.
My sanctuary is all of the above. Where is your peace of mind? What do you call holy among the closest and most privileged of confidants? Where is your sanctuary?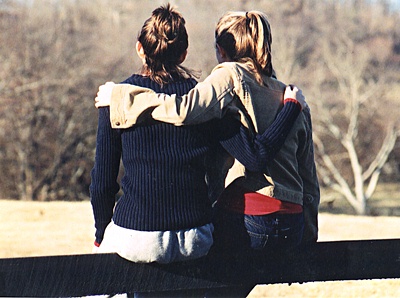 © Jaime M., Wichita Falls, TX