Turning Point
December 28, 2010
If I had to compare life in general or mine in particular to something, I would compare it to a large boulevard in the middle of winter. Some snow is left on the asphalt; however most of it has been removed and replaced by salt. On this road there are also potholes; I drive around them to prevent a flat tire. Every four hundred yards, or so, I might have to stop at a red light or at a stop sign. My road also has intersections; I have already past a few but now I am at a larger one. I am a senior in high school. I know that in the fall I will be attending college but which one is still unclear. I can take a hard left or a slight right or even a hard right. Once colleges make their decision on my applications, I will have to decide which way I want to turn.
Two years ago, I was also at an intersection, however, much smaller than the present one. I had two options either turn or continue to go straight. I decided to take a turn. Once I turned, there were many more obstacles. From my experience in Madrid, I learned that taking a turn into a road with obstacle is better than continuing straight. Going to college is similar to my past experience; I will meet people with different backgrounds and I will be in an unknown environment. I know since I took a train from Paris to Madrid, that the beginning is always challenging but I want to be challenged.
The spring of my sophomore year of high school I decided to study abroad for three month. My friends and I had been talking about it for a long time, and in the beginning we all wanted to go. However, when the time came I ended up being the only one actually went. I have never feared change so spending a trimester away from my family and my friends never seemed crazy, to me. I had long talks about studying abroad with my dad and mom. They were all for this idea; my mom had done the same at my age and was willing to let me go. After several international phone calls, I found a family willing to let their daughter exchange her life with mine. She would come live in Chicago with my family while I went to Madrid and lived with her family.
Everything was going perfectly well. My family and I went to Paris to visit our hometown and my mom's family. My family was staying in Paris for two weeks. I left on the Sunday of the first week of our stay. My parents and my sister accompanied me to the train station, "Gare de Montparnasse." The trip to Madrid would take twelve hours by train. I went from Paris to Irun and Irun to Madrid; I was supposed to arrive at Chamartin at approximately 10:30pm. I was traveling by myself, but once again this did not scare me. I had already flown unaccompanied to Spain the summer prior. I thought this would not be much different. I left Paris early Saturday morning, over packed, with little knowledge of Spanish, and no cell phone.
I said goodbye to family without fully realizing that that was the last time I would see them in a long time. I was on the train by myself, desperately trying to keep myself busy when the train arrived at Irun, which is a city at the frontier between France and Spain. I remember thinking, "Well, this isn't bad at all; I'm almost in Spain; I will be there in no more than four hours". At that moment I realized I was in for trouble. I couldn't figure out which train was mine, even though there were only two possibilities. There were no signs indicating the trains' final destinations. I decided to ask the train master in my mediocre Spanish. Clearly, he could not understand me, so I asked him if he spoke either French or English. In the past my bilingualism had saved me in these types of situation. Unfortunately, the conductor only spoke Spanish
Finally, after many attempts with different languages and signs, he understood what I was trying to say: "Which train do I take to go to Chamartin in Madrid?" He paused, trying to understand me through my thick French accent, and he responded: "Excuse me, Miss, but the train you should have taken is leaving the station as we speak." I gazed at the train, star struck, not knowing what to do. When I realized that there was no possible way I could stop the train, I asked the train master what I should do. He said I was very lucky because there was another train that was going to Madrid. The train was going to "Estacion de Madrid Atocha," and it would arrive in Madrid at around midnight. Once I got the ticket and realized I had a two hour wait, I decided to call my father who was still in Paris. After leaving a detailed voicemail message about what had happened and where I was going, I paced the hallways for two hours. The train arrived on time and once I was settled in the train I just stared out the window wondering what I could possibly do next. I did not know my host family's phone number or address, I had only been to Madrid's airport, I knew just a little Spanish and I knew no one in Madrid or even in Spain for that matter.
I was finally arriving in Madrid and got my first glimpse of the city. I was glad to be in Madrid, after all this had been my dream for many years now, but at the same time I had to figure out a plan of action. I had different scenarios in my mind when I took my suitcase and walked in the long hallways. I had no clue what was at the end of the tunnel but I knew I would find a safe path to take. When I arrived at the exit I looked at the people who were standing there; some people were waiting for their boyfriend or girlfriend, for a friend; a family was waiting-- there for me. When I saw the parents and their daughter standing there waiting for me I had never felt so relieved. My dad received my voicemail and had automatically called my host family. My host family got the message and came to meet me.
During the train ride I thought about different plans of action. I thought that I could spend the night at hotel nearby and call my parents in the morning or I could call the family that I had stayed with, the previous summer. They also lived in Madrid and knew my host family. All these different plans were going through my head while I was walking in the train station. I was overjoyed when I realized that I was done making phone calls with a pay phone, I was done worrying. I had arrived at my destination safe and sound; there had just been a couple of obstacles in my path.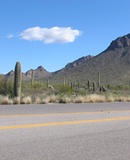 © Aleksandra K., Tucson, AZ