Broken Keys, Broken Heart
December 24, 2010
I woke up suddenly as I jerked up, from falling. 'Twas an odd dream:

I was talking to you becuase we were in luch detention, and the teacher had gone out of the room, I was there becuase I got in a fight, I lost and got lunch detention, but wasn't suspended. You were there becuase a sub sent you there. When luch got out you told me to meet you, when I asked where you said, "the Music Room. At 2:50." This was odd, but I was so happy I didn't notice. I went through 5th and 6th hour like a breeze, not even remembering them by 2:30. I went to the music Room, straight away. When 2:50 came around you were standing right by the door. I hadn't told anyone I was meeting you here, I simply told everyone, I was to stay after school with a teacher. "Hi," I said holdong in what I really wanted to know , why did you wanna meet.

"How are you?" You asked.

"I'm fine. So," I had to think of something good to say, "What do you wanna do?" you idiot, i thought, no wonder he once hated you.

"You were talking about that ong, The Music Box. You made it sound magical. Can I hear it?"

He surprised me, I'm sure I blushed, especially since I giggled, my nervous giggle. "yes! Of course I'll play it For You!" Then we walk side by, so close we could've been cheek to cheek. I started playing and when i finished he said he loved it. He said he was recording it, and that he would listen to it every night before he went to bed. It had become our rutine to meet there but now at 2:40. Then one day in the music room, I couldn't play, no one knew why. Once he found out he deserted me. Th next time we spoke he acted as if non of that had ever happened, someone told me he'd been planning to do that all along. I could never play again, my fear was that once I had broken the piano in my soul, the love in my heart would break as well. so I ran to the top of the building just so I could be alone, I look around and no one was there, but suddenly I was being pushed.then, I woke up suddenly as I jerked up, from falling.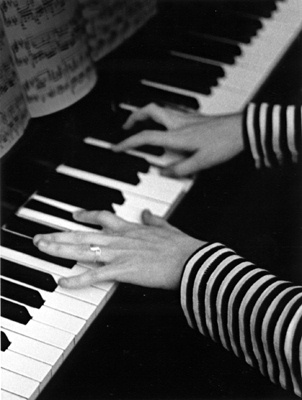 © Paulina A., Marblehead, MA