Thanksgiving
December 18, 2010
The morning was cold and crisp, the fallen leaves rustled in the yard. All the dead, but beautiful, leaves covered the ground like a dark cloud covers the sky. Even though it was cold the sun was shining. The weather was just a hint of summer and winter mixed together.

By three o'clock the food was almost ready; the mouthwatering aroma of turkey in the oven filled the house. Outside, the sun peeked out from behind a cloud and began slanting through the windows. After the doorbell rang, the family filed into the house like a colony of ants marching one by one. Everyone gathered in the dining room which was brightly lit by a chandelier. The deep red tablecloth draped over the large, rectangular, wood table. Candles were lined across the table shining bright as new fallen snow. The assortment of food that filled the table incuded: turkey, gravy, mashed potatoes, carrots, yams, stuffing, cranberry sauce, and corn bread. The tremendous aroma of all the foods filled the air and everyone's taste buds began salivating in anticipation for the meal. The golden turkey was roasted to perfection. Coupled with the warm gravy and stuffing, the moist turkey seemed irresistible. The hot mashed potatoes were swimming in a pool of clear, rich, yellow butter. Someone quickly scooped a portion onto their plate. The hot gravy dove onto the fluffy cloud. The sweet, cinnamon taste of the candied yams put the finishing touch onto the entrée like a cherry on top of a sundae.

After the main entrée was desert which consisted of the following: banana bread, pumpkin bread, cheese cake, and apple pie. The pie cutter sliced a piece of apple pie and the ice cream scooper scooped some vanilla ice cream onto a bowl for a melt-in-your-mouth combination. The heat of the apple pie and the coolness of the ice cream complemented each other perfectly.

When the meal was finished, the leftover food was gathered and the plates were cleaned. The only things left after the table was cleared, were a slightly stained tablecloth, ten stuffed bellies, and smiles of satisfaction.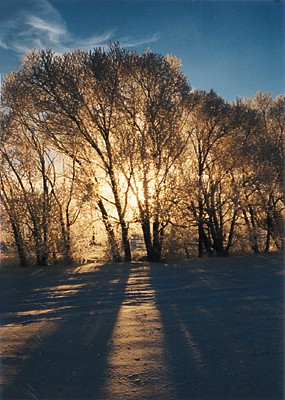 © Kyle G., Badger, MN