Silent Suffering Renews Friendship
November 29, 2010
Thanks to numerous alphabetical seating charts, in middle school I sat behind and met a sweet girl with an infectious laugh and friendly smile named Meaghan Cleary. At first we were just acquaintances who waved in the halls, but as I got to know her goofy sense of humor and selfless character, she became one of my best friends.
We grew up together, from sitting behind her in our eighth grade Georgia Studies class to standing beside her at Honors Night our sophomore year. We looked forward to the days when we could drive, now we look forward to senior year and college football games.

As our sophomore year came to a close, we anxiously awaited summer vacation and all the fun times the newly found freedom would bring. However, I started noticing a change in my friend who was once full of life and humor. She was often withdrawn at school, and I began seeing less and less of her as she rejected invitations to tan, eat, or shop.
In most of these instances, her explanation would be one of illness, and I felt for her. I never wanted to see my friend hurting. However, as her declines became more and more frequent, I mistakenly took her desire to be at home as one of negative feelings toward me and our other friends. I just didn't understand, and what is worse is that I didn't try hard enough to. At the time I could not comprehend the pain she was dealing with physically, and so understanding her desire to be alone and personality change was a nearly impossible task.
However, as a close friend I should have been there in any way I could have been, letting her lean on me in her time of need. I misplaced my anger from losing a friend towards her, instead of being understanding. Leaving my best friend to suffer inwardly instead of surrounded by support is something that will leave me with guilty feelings for some time.
As the summer continued, so did Meaghan's pain. I watched as my friend went to countless doctors, desperate for conclusive answers and possible solutions. We were hopeful when Meaghan researched Celiac Disease, for which her symptoms seemed to fit. As she waited for test results, my friends and I watched as her diet became more and more limited. When we went out to eat she ate little, and she often spoke of how fearful she was to eat certain things. Again, we wrongfully interpreted her actions as ones of negative self image. As her waistline and face began to shrink, we were fearful that she could possibly be avoiding food on purpose, in hopes of achieving some "ideal" body image lauded in movies and magazines. Horror stories of eating disorders and physical abnormalities began plaguing our image of Meaghan, and again, as her best friend I should have known better. Or I at least should have expressed concern in a positive manner, just to rule out that possibility.
When our junior year rolled around, our once inseparable friendship had developed a wedge. It was unspoken yet evident to both of us, and I missed my best friend. As Meaghan continued to face challenges from her illness, her once outgoing and lovable personality began to dwindle away. At lunch she often kept to herself and was sometimes irritable, and in class she laid her head down on the desk and remained silent most of the time. It was so hard to watch her become introverted in this manner, because the Meaghan I knew and loved was a girl that enjoyed being around her friends and took an active role in class and school activities.

Some hope became evident during all of this though, when Meaghan was finally diagnosed with Celiac Disease. Although this meant an entirely gluten free diet, which deprives her of bread, pizza, and several other common foods I take for granted, Meaghan was hopeful. Our prayers had been answered, and finally with conclusive answers she could begin to recover physically and emotionally.

For a while we started seeing a turnaround in her behavior and the old Meaghan returning, and I couldn't have been happier. Unknown to me however, Meaghan was still silently suffering. Despite her diagnosis and diet, her pain continued steadily.
I remember staying over at her house, and as we were about to go to sleep, I noticed Meaghan sitting straight up. When I asked her about it, she told me that it helps her digestive problems and can sometimes help with her pain. It was also hard not to notice the numerous bruises covering her arms and legs from cheerleading. Under her eyes dark circles made themselves permanent, revealing to everyone her lack of sleep. In pictures she looked even thinner, and in her cheerleading uniform her hip and collarbones jutted out farther than normal.
Meaghan and her family have still not been provided with concrete answers regarding her pain. As I write this sitting comfortably on my couch, Meaghan sits in a hospital bed across town with a feeding tube in her nose, still praying for relief. Visiting her in the hospital was both trying and beneficial. It hurt me to see my once active and lively friend confined to a hospital bed, trying to hide her weariness and frustration. However, seeing her in such a poor state opened my eyes to the pain she had experienced for months.
Her eyes lit up when I walked into her hospital room, and although she was weak and in pain from the feeding tube, she spent the day with me. It was like old times for a while, and yet our new reality was painfully evident as I was constantly reminded of her pain by the beeping of her feeding tube. I couldn't imagine missing countless days of school and all of the events that go along with high school because of such steadfast pain, and it was even harder to imagine how she survived it without the support of a best friend. Her strength is evident in all that she does and for that I am so proud.
Meaghan's perseverance is something even greater to be admired. Through her illness she came to school and forced a smile and positive attitude. She maintained her grades, and by researching possible answers for her sickness, she discovered a new love for chemistry that would allow her to become a state finalist in the Governors Honors Program in her favorite subject. Even more admirable was her strengthened relationship with God, as she relied more and more on Scripture for answers when medicine could not provide her with any. She found ways to thank the Lord amidst her physical and emotional dilemmas, and in the process taught me the necessity of showing gratitude.
Through these months I have watched her fall down, but I have recently witnessed her growth into a somehow stronger and more motivated girl. She maintains hope when time and time again it has been knocked out of her and through her painful experience she has responded with resiliency and a smile.

Currently, all she can do is avoid certain foods and remain positive. I see remnants of the old Meaghan as she often jokes about being on an episode of House or Mystery Diagnosis, and her limited rice cake diet. Even though she makes light of her situation, I know Meaghan is in one of the most trying times of her life, and I find myself often asking why. But during her hardships, all I can do is support her, and attempt to make her situation easier. And in my efforts, I hope I can make up for past times.

After writing this, I sent it to Meaghan while she was hospitalized. We shared tears together, and for the first time in a long time, we were honest. Through this we were able to reconnect, and God's presence was made evident to both of us as somehow this awful situation contained a silver lining.
Meaghan has inspired me with her strength, and I continue to pray for her and her family to find some relief. While trying, this tumultuous experience has somehow renewed our friendship, and I look forward to the days when Meaghan's health is restored and we can continue laughing together. She has taught me what steadfast spirit looks like, the value of compassion, and what being a friend truly means, and for that I thank the Lord too.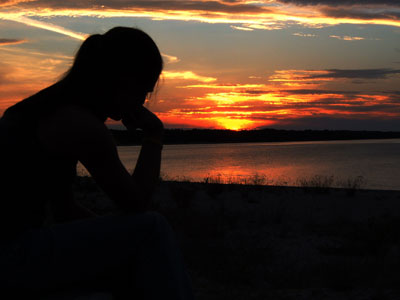 © Hilary L., Rogers City, MI