pool of content
December 14, 2010
The asphalt is hard under my feet. It's also scolding hot. It burns by bare feet with each step. The warmth spreads through my body with the sun's help. As I run to the grass ahead, sweat plays on my forehead. My feet are refreshed with the short period of air swooshing at my flesh.


The grass pokes through my toes now. It is a cool relief from the hot sting of the road. The gate opens making a rustic sound when pushed. I drop my towel and look at the water.


The familiar turquoise-light blue calms me. A little boy throws a pool toy in my peripheral vision; it penetrates the water with ease creating little drops. The ripples go through out the pool. I think for a second, should I jump of emerge into it slowly…definitely jump. I curl my toes around the edge of the pool. My legs tightened when I bend my knees for the jump. The air is around me for a second then I break through the wet surface. I sink to the bottom. My breath isn't in distress. I look up to the world I was once in. I blow bubbles. They look silver, unexpectedly un-blue. I blow more and watch them materialize at the top of the silver sheet. It's as if I am confined in a friendly quiet world. I swim at the bottom my ears are tight with the pressure but I'm too tranquil to care. Soon my lungs will throb with its recycled air. But I like it here in my cold and silent world. The water rushes through each limb of my body. I move fast and feel my body slow with the force of the water. My lungs finally give its last cry out. I slam my feet to the bottom shoving the ground away from me. My head pops to the surface. My lungs fill themselves as if there might not be a refill to come. My face is cold now my body tepid. I bring my legs to the surface. I'm lying in my pool of content. I dive again.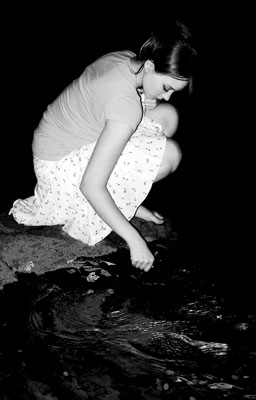 © Michelle B., Blairsville, GA