A Heartbroken Reality
December 13, 2010
Teardrops slid from eyelash to cheekbone to tennis uniform; the faster they fell, the quicker the white sneakers shuffled towards me through the many old rain puddles.

The girl's normal poise and tenacity faded. Her confidence in knowing that eyes were constantly upon her vanished. Her perfect image was, for a moment, not quite vital. Only once did she bring her left hand up to rustle her hair as she walked my way.

She dropped her tennis gear and Longchamp tote bag partially filled with school books in the trunk and herself into the driver's seat. In I slid, careful to keep my uniform away from the dampness caused by the leaky ragtop during that morning's storm. By the time I situated myself, she was already fidgeting: gum in her closed mouth and her arm against the window, picking subconsciously at her fingernails.

I felt a surge of compassion. "Hey, Auna. How was your day?" I asked.

"Embabe, we're not going to talk about it." Understanding should have hit me by that point.

The black BMW key turned in the ignition. Her foot slammed on the pedals and we shot backwards into Kinkaid's small parking lot. My eyes widened. A dark truck also pulling out halted, thankfully, allowing us to pull through. Our red beemer stopped at the first stop sign for only a moment, and then I was thrown into my seatbelt once more.

We had made it safely into the left lane on San Felipe and were just about to pass the Memorial intersection, when Auna's phone, a thin pink razor at the time, beeped, three times. I remember rolling my eyes; it was a message from her boyfriend, Andrew, no doubt. The two of them would never stop talking.

The phone spinning around in her hand halted and flipped open. She glanced at its poorly lit screen, reading the message. Her jaw fell with a gasp; her breathing quickened; her hands released the car to cover up a drowning cry; her shoulder's hunched over; she collapsed.

The car spun.

I grabbed the leather wheel, pulled hard and sent a silent prayer. We jutted across traffic, the sound of sliding rubber over black asphalt resounded from below, frosting the Chapelwood Church parking lot with melted tire, as if it was the plastic off a spatula on high heat. My seat belt was off, my door was open and in a second I had the eighteen year old out of the car. She fell into my arms, our usual bear hug. I enveloped her and squeezed hard. My own arms would not stop shaking. I wished so much to never let go, to let her stay in my arms until her tears dried, to surround her so much that no one else could touch her, that whatever was happening in her life could no longer affect her. My fingers tightened around the car key I had pulled from the ignition as my older sister shook in my arms, weeping.


It is four years later, and Auna and Andrew have long since broken up. As an Upper Schooler myself, I drive the Lexus, attempting to listen as my grandmother chatters away. "Your Aunt Joyce has learned that there is no Prince Charming."

I drive us through our usual route, down San Felipe, past the intersection with Memorial and past an unassuming church.

I remember.

The terror rushes back into me. The memories surge and crash, charged with emotion. I am reminded of my ignorance, Auna's red eyes, her heartbreak, her self-consciousness, her silence, and finally her determination to put it all behind.

"I think there is," I pull myself back into the conversation and interrupt tentatively. I stop for the light at the second part of Memorial.

"Really?" Her grey eyebrows raise; she still views me as a child. For the last hot day of fall, out of respect for the humidity that gets so much pleasure from drowning Houstonians daily, she wears a thin, denim vest with a flowering blue pattern.

"Yes, Grandmama."

"Well, what would your Prince Charming need to have?" Her tickle-me-pink gems dangle from her neck and scratch the dashboard as she leans her frail body towards me, as if preparing to lecture me.

"Well, let's see. Nothing too specific: a good person, intelligent, loving. Oh! And not terribly ugly. I mean, I'm sorry, but I don't-"

"Respect. Don't forget about respect. Always make sure he respects you," an urging strain creeps into her voice. I smile and nod. My grandmother tries to protect me, teaching me what she has learned from her mistakes, what we have all learned.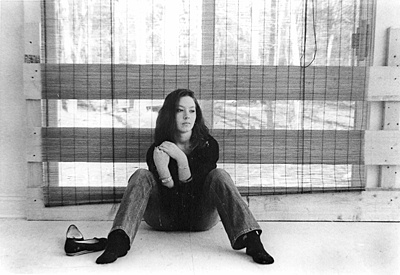 © Crystal F., Marshfield, MA