This I Believe
December 12, 2010
Fifteen hours of burrowing under my covers in my cool dark room. Ten pounds lost off my already petite body. Three gallons of ice cream stored in my freezer for when getting out of bed is even an option. Two concerned food pushing parents who'd do anything to see me smile. Countless tears shed. Countless tissues used. And one broken heart that needs more then just ice cream to heal. This was me after my devastating break up with my boyfriend.

While I was dead to the world, he was prancing around with another girl. While I was crying an ocean of tears, he was happy as a clam. "Babe, the sparks just aren't there anymore," he'd told me when we broke up. But really he meant to say, "I'm over you and I found a new, much better girl." He dumped me like a load of dirt, and dirt is what I felt like.

Fast forward a month after the break up. I've finally stopped crying in the shower, in my car and before I fall asleep. I'm eating, working out and hanging out with my friends again. I deserve happiness. Yet I was deeply hurt by the person I thought wasn't capable of inflicting pain unto me. Why did I get hurt, while the he felt happy to leave me alone? Karma; what goes around comes around. Though I don't hope for it, but I knew his world was going to crash, just like he made mine tear at the seams.

I believe that the person who waits an extra second to hold the door for the person behind them at the grocery store will get it back it return. Not that it is necessary to get something in return for doing a good deed, that's the way life works. Give and take.

Talking behind people's back, lying, putting others down to benefit selfishly are things that I have strayed away from, though I'm not perfect. I believe that if I am a good person good things will happen to me. I've always believed this but I haven't seen the repercussions until recently.

After I recovered from the initial breakup, adjusting to being on my own was hard. It was even harder seeing him with her in the hallways. But I continued to mind my own business and heal, washing the visions of them together out. And eventually, it came back to me. I started talking to a friend in a different way-yes a boy. We bonded over non materialistic things such as church, hiking and other family activities. When before, my previous relationship was solely based on status and how everyone else thought we were "cute together". But now I was building a relationship on our connection and our connection only.

Now my life is in a totally different direction than a mere month ago. A month ago, I was only thinking about myself and my boyfriend; I left friends out, ignored co-workers, and wasn't appreciate of my blessings. But now, I'm having fun by helping others and I'm doing it with someone who isn't into status or material items.

What goes around comes around; I know my ex-boyfriend will get back what he gave me. But that's not my focus; My focus is focusing on others in hopes that good things will happen in return. This, I believe.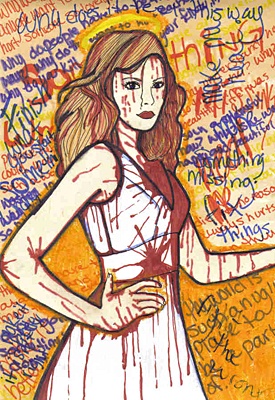 © Sara D., Aiken, SC