Disconneted From the Devices
December 11, 2010
After yet another long, tumultuous day, me and the IBM Stinkpad congregate with our other outsider of a friend, the iTouch. Totally disconnected from any texting, facebook messaging or chatting, I sit down to journal my thoughts into this piece of...iPaper?
One last attempt of an apology to my sister, two SmartLunch sessions, three tests, four of us at the dinner table, five problems Mrs. McNally ignored when I asked, six portfolio add-ons (four short) and seven minutes more of babysitting than needed, I find myself here. I swear, each day gets longer. The minutes are less condensed, airy silences filling them and pauses of indefiniteness fall more often. The days come in single-file lines, just as elementary school kids follow the line leader, except there is no designated caboose in life. Annoying as it may be, I am the door-holder, waiting for the last of the kids to come so I may resume my place in line, only for the end to be nonexistent.
Solutions to my problems are fewer and farther between, forcing me to take on the role of my uncle... solving government contingency, except in my own life. The battle remains between the side of me saying I just need a break and the side that conveys to me that courage is built from never stopping. That sector of my subconscious was proven wrong today, as I slipped into my room to calm down from another dinner table argument. My first tear in months was shed, my strength and resistance being arrested, or maybe never there to begin with. While I disgracefully allowed my sister to seize the better of me and throw it away, that tear was a reflection of the one last hope I have. The single desire that stands alone like the nerdy kid when teams are picked in P.E. The single desire to not be subject of ridicule from my ruthless sister, the single desire to not be on the outside looking in.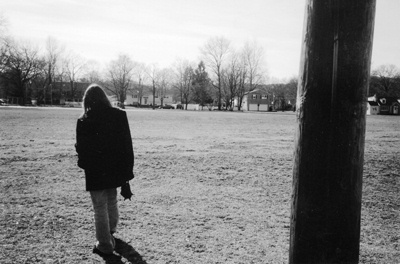 © Rosalie P., Pompton Plains, NJ