A Slice of Happiness
December 5, 2010
I always asked for a lot. I am not the best of sons—but today I would pay it all back. I first awoke when my electronic alarm clock started to beep. An irritating insistent whine emanated from the simple piece of machinery until my half-asleep hand absentmindedly hit the off button. Wearily, I got out of bed, got dressed, and trekked down the countless stairs into the kitchen. It was Mother's Day, and I was secretly preparing a scrumptious breakfast for her.

Barely making a sound, I sneaked over to the fridge and took out a pack of Quaker oatmeal, red Delicious apples, eggs, and salted sunflower seeds. Going to work, I cracked the egg shells and put the eggs in the microwave, chopped the apples into equal slices, and cooked the oatmeal in an iron skillet. I was a one-man machine, decorating the apple slices with the sunflower seeds and arranging a mouth-watering meal in an appealing pattern.

Setting out the china and silverware, I put the neatly decorated apple slices on a plate, which was followed by a piping hot bowl of blueberry oatmeal. Then the sizzling eggs came, delightfully drenched in soy sauce. I glanced around, suddenly cautious that my preparations might have awakened my slumbering parents. But no, their loud snores were clearly audible even in the kitchen.

Nearly bursting with pride, I tip-toed up the stairs into the master bedroom where my parents were sleeping. I shook my mother awake, explaining to her about my great cooking masterpiece that I had made for her, alone. Shockingly, she shrugged me off and went back into her peaceful sleep, barely registering a word I had said. I was dismayed; did not she appreciate my efforts? I went back into my room, snuggled under my sparse comforters, and fell into a restless sleeps filled with memories of burning oatmeal and rotten eggs.

When I woke up, the glorious sunlight pierced my blinds and entered my room, casting flickering shadows on the wall. My eyes cracked open, and I enjoyed the restful moment, arms behind my head. But then, I remembered what had happened several hours earlier. My perfect breakfast, abandoned all alone. Eyes wide, I dashed downstairs and saw my mom eating a sluggish pile of mush, brown-like apples, and crumbling eggs.

My once great feast was now only a heap of rubbish, being slowly devoured by my mother. But despite the taste of my meal, my mother was smiling. It seemed that every bite she took was relishing the tastiness of each morsel. I asked my mom why she was enjoying my meal so much. "Because you made it for me, Jack," she replied, with a tinkling laugh. At heart, I felt a pleasant sensation that I knew at once, was happiness.

This was the feeling that I had been waiting for.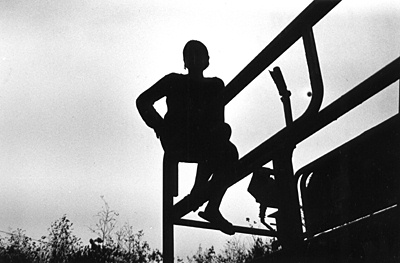 © Bailey C., Marblehead, MA