Bored
November 21, 2010
This story is simple, and so it begins in the most simple of ways, with the two words which sum up my entire childhood.
"I'm bored," I complained.

"Practice your chords," my mother suggested, tilting her head toward the nearby piano but not looking up from the e—mail she was concentrating on typing.

"Read a book," my father advised, his eyes glued to the pages of his own.

"I'll play with you," my sister offered, gaze fixed on the television as she watched her favorite cartoon.

I sighed. I didn't want to practice piano, nor did I want to read a book. And I most certainly did not want to "play" with my sister. I was nearly 10 years old, and I had vowed to never let her seduce me into a game of "house" again. I didn't move. It was then that my father closed his book and turned his attention toward me.

"When I was your age, Dee, we didn't have computers or fancy televisions. We had to entertain ourselves, invent our own fun," he then proceeded to tell me various stories about his childhood, and then said, "Why don't you go outside?"

After hearing countless tales about my father's "life on the farm", which frankly were more boring than boredom itself, going outside sounded like a splendid idea. So I pulled on my Junior Carhartt jacket and ran out the front door. The fresh, Spring air greeted me as I came to a halt on my porch. It took me a moment to decide what to do. Should I explore the woods? Catch some frogs by the pond? Collect flowers? Ride my bike? Though these were all worthy activities, I felt more like climbing the Crab Apple tree which stood just outside my kitchen window. I had climbed this tree countless times before, but I had never made it higher than five or six branches. That was pretty high for a Crap Apple tree, but I was determined that today I would make it all the way to the top.

The foot of the tree was surrounded by daffodils which had only just bloomed, so I took great care to step around them as I hoisted myself onto the tree branch which was lowest to the ground. I quickly worked my way up to the second branch, and then the third. I had climbed this tree so many times that I could do it with my eyes closed. It was my favorite tree to climb, and it was perfect for that purpose. It had a thick trunk and many sturdy branches which shot out in nearly every direction. At my youthful age, I thought that it must have been planting solely for climbing, because the fruit it produced was bitter. I later found out that Crab Apples were are meant to be eaten plain, but to be made into jelly. I ate them frequently, which could explain the constant stomachaches I faced as a child…

On this day, however, I had no time to stop and pick the tiny fruits, for my mind was set on achieving new heights. When I reached the seventh branch of the tree, a branch which I had never managed to climb to before, a sense of accomplishment overcame me. But I wasn't finished yet. I pulled myself up onto the eighth branch, and then maneuvered myself onto the ninth. I was so close to the top now that I could barely control my excitement. I glanced down at the ground. I had never been afraid of heights, but this was a whole new level of "high". It was exhilarating. It took a great deal of thought to reach the tenth branch of the tree. The plan I developed involved me inching myself to the very end of the ninth branch, but somehow, I managed to do it. The eleventh and twelfth branches came easily, and then, before I knew it, I was at the next to last branch of the tree- I was so close.

The tree was beginning to sway, so I lifted myself onto the tree's final branch with care. All of the sudden, I realized that I had done it- I had reached the top! I felt as if I wasn't just on top of the tree, but on top of the world, and I was overcome with joy. Thinking about nothing but my new achievement, I lifted my hands into the air and shouted out, "Victory!"

The moment the word I escaped my mouth, I escaped the tree. My hands no longer securing me to the branch, I toppled out of its limbs faster than I could figure out what was going on. I hit the ground fast and with a thud. The first thing I noticed was that I had crushed the beautiful daffodils at the foot of the tree. The second thing I noticed was that my arm was broken. At this point, my mother looked up from her e-mail. My sister's attention was diverted from the TV. My father put down his book. Everyone looked out the kitchen window and at me, as I lay sprawled beneath the Crab Apple tree. And even though my arm hurt like hell, I smiled. Because at least I wasn't bored anymore.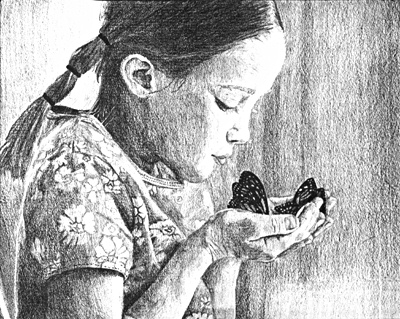 © Alina L., Holland Patent, NY