The Basic Rule
November 19, 2010
"Two miles down, only thirty-eight to go," I muttered to myself as I pedaled and looked down at my Garmin GPS watch.
Today was bike day. But it wasn't just bike day; it was swim and weightlifting day as well. If I want to hit my goal time at my next triathlon, I had to work harder. I remember thinking to myself, "Don't forget that tomorrow is track workout day with a recovery swim and possibly a speed ride. That means I need to cancel my plans with the girlfriends for coffee and a movie tonight (regardless of the fact that they hardly invited me do anything anymore), so I can get to bed early. Forget about taking the dog for a walk and relaxing with a book, because there is no time." In my mind there was only time to train. I hadn't yet learned the basic rule, the rule that taught me how to rest and how to live my life in moderation.

"Come on, push through the fatigue! Go faster! No, don't you dare stop to walk. Keep running!" went the army sergeant voice in my head again.
For the longest time there were always two options when it came to workouts: I could turn up the volume on my iPod and get through it or stop and cry. I have done both, but eventually my body got to a state of such extreme fatigue, I just couldn't carry on.
I remember going out for a run one cool fall day when the leaves were crisp and orange. I had trained very hard the prior three days of this run. My runs would always start out slow so my body could warm up to the increasing demand that I was about to place on it. Then the music from my ear buds would grow louder to help mediate the physical pain of my heart beating fast and the muscle soreness in my legs. But on this particular run something strange started to happen. After about fifteen minutes in, I started to feel faint and exhausted. But I told myself I had to keep pushing. Then, my body broke down. Everything hurt, and simply trying to walk was the most painful. I found a shady plot of grass next to the road and crashed my fatigued body down and cried. After the tears couldn't come anymore, my rational thinking kicked in.
"Why the heck am I laying here in plain sight of passing cars looking like a loser?"I questioned myself.
"Wait," I realized, "I am NOT a loser!"
As hard as it was to pick myself up and make the decision to walk home that particular day, rather than trying to push through my "scheduled run," I did it. The very next day I did something I hadn't done for months. I did nothing! Not "nothing" in the sense that I literally didn't do anything, but I didn't train. Taking a day off of training, meaning no running, biking, swimming, tennis, or anything else physical, was a huge step for me.
Trying to figure out what to do with my time without thinking about working out was quite a difficult task. I felt as if I had so much time, and I realized that every spare minute of my life was consumed by either working out or thinking about my next workout. This obviously was not a very healthy lifestyle that I was imprisoned in. As healthy as it is for our bodies to move and to be fully engaged in physical activity and in tune with how our body feels during exercise, there is certainly a point in which it becomes way too much. After experiencing overtraining and finally getting to the point where I was able to take rest days, I spoke with a person who taught me something very important. And that person is my tennis coach.
My tennis coach, Jon Rydberg, is an Olympic paraplegic player, and he gave me support and insight that I will remember forever. I even kept an email that he sent me, and the words that he wrote were not only helpful, but vital to my race success and being a good athlete.
"The body needs more than one day to recover. Just remember, despite the urge to work out, it does more harm than good and will just keep snow balling on you. I know it's hard, but when you just sit there, tell yourself that this is ok and that it's good for me to do this. Basic rule: if you're tired before you start a workout, you shouldn't work out cause you are draining the body farther, and it will just take longer to recover from fatigue."
This was exactly what I needed to realize that all I was missing was moderation, and he gave that to me.

"This hurts but it feels so good! Twenty-four, twenty-five, twenty-six miles per hour, on a flat?" I exclaimed aloud as I noticed my bike pace getting faster.
I was itching for a workout and I felt so fresh. The last couple days I decided not to train so I could rest up for a fast ride. No longer was I viewing my rest days as "days of no training" but rather they are days that are a part of my training plan. It's all connected! Hard days followed by hard rest and easy days followed by short rest. My body felt strong and ready rather than weak and tired. I could run faster, swim harder, and bike with much more power.
Although I wish I could train non-stop and become fast in very short periods of time, there is no one on this planet that can do that. Every living thing needs rest and balance in their lives. Of course you can still go out for your tempo, or hard, sustained pace run, but follow it with a nap, yoga, or coffee with friends. Go ahead and complete your bike/run brick workout, but spend the rest of your day reading, working, stretching, or cooking. This could apply to many aspects of life, but one very important thing I learned through training is that it's simply not worth it if you don't keep social connections. If anything in your life, not just working out, consumes you to the point where you cannot even keep a date to go out with friends or family, it's time to reevaluate your situation.
Back in the days when exercise used up all of my mental and physical energy, my old self would easily and almost gladly turn down invitations due to my fatigue and lack of comfort in social settings. "Hannah! How about a movie Saturday night?" a friend might ask. "Sorry, I need to hit the gym," would often be my reply. But now, I love going to the movies, eating popcorn, and driving around with my friends past midnight.
I remember when the invitations and fun plans started to dwindle down to nothing, and the times when I felt like I had nothing. This then spiraled into a vicious cycle of loneliness. Not having friends and fun would force me to cope with my loneliness by training. The only way to break that cycle was to rest. Eventually I gained back the trust and connections with friends and family by actually accepting their invitations and plans. Without social ties and support of friends and family, much of the meaning in my life was no longer there. You need people to survive and thrive. That is why they ALWAYS take priority now.
By rebuilding the friendships and trust with the people in my life who had drifted away, I found the simple happiness and balance that I craved for so long but could not have. When I felt happy, I was able to listen to my body better and treat it with respect by giving it time off and time to rest. Coach Rydberg's "basic rule" that if you are tired before starting a workout, don't do it! I now apply this "rule" to my life every single day. My body tells me what to do, I don't tell it what to do. With adequate rest, the practice of yoga and relaxation, being around my friends and family and having fun, and of course mixing in moderated triathlon training, I have found the balance and love that I need in my life and in my mind and body.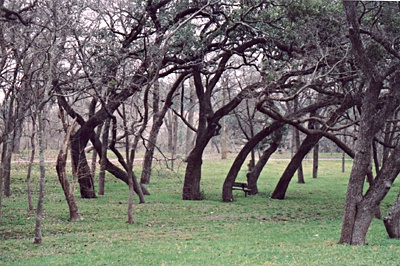 © Lauren W., Robinson, TX