Weeds
November 18, 2010
The view of the lake was gorgeous. It was the perfect place for a church retreat. And it was also the place where my friend Ro and I stared death in the face.

As we drove up to Navajo lake I couldn't wait to go swimming. It was a three night church retreat. But the most memorable day was day number two.

All of the grownups pilled into the cabin. My mom was giving me a lecture about how I needed to behave while the grownups are having the church service. When she was done and went inside I went and joined my friend Ro and we took off.

We climbed around on trees and jumped the fence. Then we found the rockslide. We slid down. Then we climbed back up. After a couple of sessions of this, while Ro was at the bottom, I started an avalanche. First it only consisted of small pebbles. But the rocks seemed to grow. Soon it had rocks bigger than my head, and that's saying something. All the rocks were flying right towards Ro! He ducked under a small cliff face in the nick on time. All the rocks flew right over him.

"Are you okay" I called down worryingly.

"Yes" he called back.

I slid down to give him my apologies. Then he went over to the right and climbed up the cliff. Normally I would of simply climbed up the slid but this time I decided to join him.

Just as I reached the top of the cliff the ground started to crumble and fall.

"I-I'm slipping. Ro. Ro. RO!"

He turned around and grabbed my hand. He started to pull but I was pulling him down! He started to grab weeds around us to find something to pull us up. But all the weeds were being pulled out! Finally, he grabbed the smallest, shriveled pitiful weed and pulled me up.

I am grateful to Ro for saving my life right after I almost killed him. I still don't know how I will repay him. But now I know that the smallest little things may look weak, meaning the weed and not Ro, but on the inside they are strong.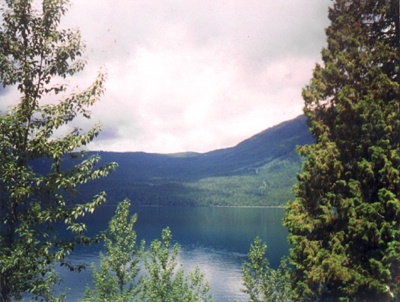 © Chelsie T., Phoenix, AZ