Undecided
November 17, 2010
He's a smart Jewish runner with curly brown hair.
I'm a smart Jewish catcher with wavy brown hair.
I never thought I would like him as much as I do now.
We started out as good friends in our last year of elementary school. We sat at the same table in Art, listening to most of the guys singing "Mysterious Ticking Noise" from Potter Puppet Pals. We talked about our upcoming bar and bat mitzvahs. I finally felt like someone understood my Jewish heritage. It was a nice feeling.
That summer, I missed him more than ever. It was crazy: I never thought I could actually miss a guy that much. But it happened. I lasted the summer, wishing he actually knew how I felt.
Coming into middle school for the first time, I was sad to find that I didn't have any classes with him. I finally saw him at the band meeting, but for the first time, I felt shy, and though I may not have shown it, I was.
Gradually, as the first month or two went on, we got back to being friends again. I made the most of the time I saw him at band and between 5th and 6th periods. We got closer and closer, but I still wanted to go further.
On Valentine's Day, (I purposely picked the day) I told him how I felt via text. He didn't give his opinion until the next day, when I finally had found someone in the vast world that liked me for me: a smart, fun tomboy that didn't really care what people thought of her. I was amazed, ecstatic, and joy-ridden. Finally, something that I had desperately wanted came my way!
We've been together since, but I never know how he feels. He says that he doesn't want kids in school to know in fear of them gossiping over us. Add the fact that we're both still in middle school, and I don't know what to do or think anymore. A lot of time all I see between us are two really good friends. But that's not what I wanted to happen. I told him what I really thought about him so that when he leaves to go to a vocational high school, he wouldn't completely forget me. Now, I fear that might happen, and I don't want to be forgotten. I need to know how he feels; otherwise, I feel like I'm living in a world of my own fantasies. Only, this is a relationship fantasy that keeps spinning into different roads.
Which road do I take?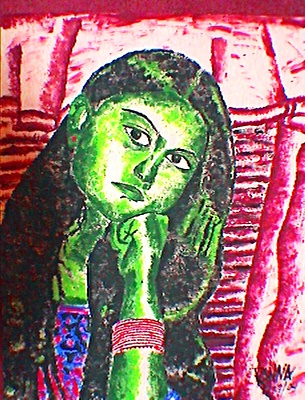 © Ranna C., Monmouth Junction, NJ