Ericka Chamsney, 9-year-old MTF Transgender.
November 6, 2010
"Why, daddy? Why?" I silently said to myself as tears fell down my cheeks.
Why does he do this to me? Doesn't he love me? All daddies are supposed to love their little angels, are they not? I love my daddy. I love him a lot. I tell him everyday. What do I get in return? I get hurt. He hurts me. My daddy hurts me. Why? Well, that's a good question I have yet to find the answer to. Is it because I tell him I love him? That can't happen. No. It can't be the reason why he hates me so deeply. I just want him to accept me for who I am. I want him to be happy for me. He wasn't like this before.
Three years back, when I was still 6 years old, my daddy meant the world to me. We used to be so close. Whenever I had a problem with my mommy, I would always turn to him for an escape. Him and I were inseparable. He was like my best friend. My daddy was a very religious man, who read the bible daily. He taught me right from wrong; lying was a sin, along with divorce, murder, cheating, sex before marriage, and, most importantly, being homosexual. Daddy always lectured me about homosexuality.
"Don't kiss that boy, Erick. it's wrong!" He said when I was 7 with utter disgust.
"I'm sorry, daddy." was all I could say at that moment.
Two years after that, my mommy was diagnosed with breast cancer. Me and daddy prayed our hearts out. Mommy was the only person that ever helped me through it all. When daddy would abuse me, she would hold me tight in her arms and put me to sleep. Eventually, my mommy died a slow, painful death. It was painful, even for me. I could not stand seeing my mommy in pain. I wanted her to be all better. I told her I would rather suffer than see her suffering.
"Erick, you are and always will be my beautiful angel. I don't care if you're homosexual, you're still my son. My beautiful, beautiful son. I'm so sorry I won't be here long enough to stop your father from hurting you any longer. Just... remem-remember.... to st-- stay strong... for me.... I.. l-love you..." Her heart stopped. As did mine.
"Mom... MOMMY! Mommy no! Don't leave me... I love you mommy! No!! Don't go yet mommy! NO!" At that moment I wanted so badly to grab her hand. The doctors had to pull me away. I kicked and screamed. Why, mommy? Why did you leave?? I need your help.
My dad has abused me since then. Did I let that stop me from being myself? No. I'm still wondering why he hates me so much. I love him, a lot. I want him to accept the fact that I am a lady. I am Ericka Chamsney, I am a 9-year-old girl... and I'm proud of it. Nothing will change that.
Not even my abusive daddy.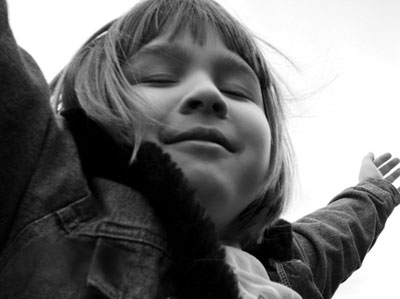 © Morgan C., Fridley, MN