A Leaf in the Wind
October 27, 2010
It is a horrible thing, to experience death. To have loved ones leave you, with nothing to remember them by but a solemn stone in the ground containing their name and the pitiful remains of memories you cherished with them. This was how it was when my grandfather died, but I was never able to grasp the concept of grief, and this story shows my quest to understand death.

It was the fall of 2007, and I had just come home from school to find my mother hopelessly standing there with a look of pure grief. She told me that my grandfather had died, and at that moment I didn't know how to respond to that information. I desperately tried to grasp the thought of never seeing my grandfather again, never being able to hug him again, and never being able to say my final goodbye.

At the funeral, I tried to withdraw from my grief and appear composed. I watched my family grieving, but strangely I felt no emotion at all. It was as if my body refused to respond to this tragedy, like it couldn't accept the cruel truth of the situation.

It would take me many years to understand what I had lost forever, to realize that my grandfather could be gone in an instant, leaving his devastated loved ones behind like a leaf in the wind.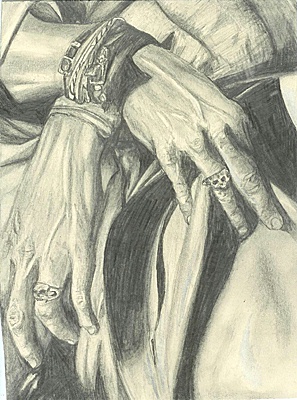 © Angela K., Kansasville, WI