Jacob
October 26, 2010
October 11, 2009 was the first time I saw my new born cousin, he was so tiny like a small hand bag, soft like a pillow and smelled just like baby powder. I felt special to carry him. Looking down at his tiny button eyes, his tiny nose and his lips, so small and rose red. I thought that sooner of later, he would grow to be big and rough just like his brothers. I whispered in his ear, just like a mouse, that he was in good hands and, slowly, very softly, gave him a kiss on his forehead, knowing that when he would get older, he would deny it.

He opened his eyes unsure if it was a good idea or not. They were brown, dark brown, just like the color of a monkey's fur. But, better. He looked at me. Like if saying, I heard you. I smiled, like if I just saw an acrobat fly across the hospital.

There, the contact,the smile,I knew he was going to be different. Unlike his older brother, a soccer player, or his 5-year-old mess maker, not even compared to his green-eyed brother. I took a look at him for as long as I could. Sinking in the moment. Knowing that he would soon close his eyes. And he did. I smiled at myself as I gave him back to his mother. Joining in the conversation of the adults.

Of course, we talked about him. Jacob James. Thinking of nicknames, taking pictures, sending to family members all over. Until, the nurse came. Party over. She took him. His eyes closed. Lost. It was quiet so we started to leave. It seemed that he was the center of the attention that everyone wanted. We wished the parents well and vanished.
Gone.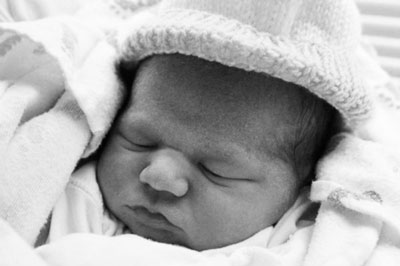 © Kaelee L., Petersburg, MI