Jaw Breaking News
October 25, 2010
Could you imagine being two and breaking your jaw? Well I can. It was in the middle of winter and we were at the Flat Iron's Mall. My aunt was nursing her baby. My sister, Autumn, and I were jumping off the huge fireplace they had there. My mom was watching us and then she decided to go to one of the stores. Autumn and I decided to stay with our aunt.
Before my mom left for the store she told my aunt specifically not to let us jump off the fireplace. She also to told us not to. If you know me you'd know that I don't listen. My aunt was too busy feeding the baby to watch watch Autumn and I jump off the fireplace. I talked Autumn into jumping off the fireplace some more. Autumn listened and we started to jump off the fireplace some more. That was the worst mistake of my life.
At first we were jumping off the second and third steps. That was fun, I never got hurt. Then we started to move up the the fourth and fifth steps. Out of all the steps I was really scared to jump of the seventh step. As a result I didn't. In spite of what I thought as usual I let Autumn talk me into it.
At first I was fine jumping off the top step. Then Autumn had the "brilliant" idea that we should hold hands as we jumped of the seventh step. Despite what I thought I was stupid enough to go along with it. As we climbed the steps I became very scared but then we got to the top. Without me being ready me sister took hold of my hand and jumped. SMACK!
As I hit the floor my jaw landed on my sisters high-heeled boot. You can hear my jaw snap. I scream like bloody murder. Blood was everywhere. While nursing a baby my aunt picked me up screaming for help. As we look around we see my mom running around the corner. She gathers our family and takes me from mt aunt. We rush to the car. Then we drive to the emergency room. In the emergency room the doctors kept us waiting for three hours. When we finally got in the room they cleaned my mouth out and gave me stitches. For the next two months I was only allowed to eat soft stuff like smoothies and ice cream. That's my jaw breaking story.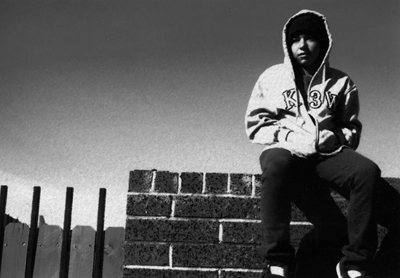 © Stan G., Phoenix, AZ