The Best Boy That Ever Happened To Me
October 18, 2010
Chapter 1


So, you are amazing. I love you so, so much," I said. Before I had even sent the text message, I knew what his reply would be. Oh, new message! I wonder what it says LOL. "Yes, you are amazing baby girl. I love you too, with everything that I have," he said. I knew him so well. I loved him so much and I knew we would be together from the moment I . . .
1 Month Earlier

I can't wait until study hall! He will be there, two seats away from me! Gosh, he's so damn cute! Oh am I glad he's new. That means that I actually have a fair chance at getting him to notice me.

Ok, breathe Ash. You can do this. Just walk in and sit down. This is your study hall too. He's not going to say anything to you. He isn't even going to notice that you're in the same room as him, let alone that you exist at all. I was wrong. He did notice me. As we looked into each other's eyes for that brief moment, I was hooked. In my mind, all I kept hoping was that soon it would be more than just quick glances and passing each other in the halls. I wanted him to notice me. I wanted him to want me. But there was a slight issue. Every girl in school, including a majority of my friends, was trying to get him too. What would I do? What would I say to him that would make me different than all of the others girls who were hanging on his shadow and every last breath?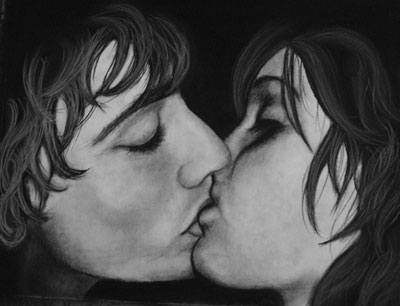 © Anna Y., St. Robert, MO