Sight of Summer
MAG
School was out and summer had officially begun. Many teens traded their books for bathing suits and headed to the beach. I spent my summer working.

Being a camp counselor is exhausting but rewarding. In summers past, I watched the kids come and go week after week, received my minuscule paycheck, and said good-bye. The normal routine. But this year, one child stood out. His name was Matthew, a normal 10-year-old who lived in darkness. Matthew was blind.

I had been both anticipating and dreading that first day of camp. Who wants to work anyway? The clouds were dark gray and the sky even seemed drowsy, like it didn't want to go to camp either. Just a few days ago I had received an e-mail about Matthew: he was reluctant to participate or make friends. Sounds like a bundle of joy, I thought.

I found my bunk, greeted the kids, and went over some rules with them. At first, I couldn't tell which one was Matthew. Later I introduced myself.

"Hi, I'm Greg. What's your name?" I asked.

"Matthew Howell, but not like a dog howls!" he joked. I walked him to a bunk and asked if there was anything in his Yankees backpack that he needed. "Everything – except what's in the front pocket. I don't want anyone to see that," he replied. The counselor in me said he might need whatever it was and that I should peek, but instead I respected his wishes.

The summer progressed, and Matthew and I felt like we'd known each other forever. He often told me that he wished we were brothers. Even though I knew everything about him, I still hadn't looked in his backpack. Whatever it was, he seemed to be doing fine without it. We talked about his favorite sports, music, and activities. He wanted to be a DJ and referred to himself as DJ Blast. He had a great imagination, sometimes pretending he had his own club, and he would sing for the other kids while they cheered him on.

One day after a swim, Matthew had forgotten his backpack in the bunk, leaving me no choice but to sprint across camp in my drenched clothes to get it. Curiosity gripped me as the zipper on his backpack dangled, almost begging me to open it. What was in that front pocket? Why didn't he want anyone to see? My hand ignored the orders of my brain, and I unzipped it.

I sighed, reflecting on the past couple of weeks, and things began making sense. I reached in and pulled out Matthew's cane. It was folded, bright red with a white ball at the end. I didn't blame him for not wanting it. I couldn't think of any 10-year-old who would.

The next day when I saw Matthew's smiling face, I asked him about it. His smile melted. "It's new. I don't want the other kids to see it. They don't have one," he said.

I tried to convince him to try it out for me. "Can we call it a light saber?" he asked.

"Of course," I replied. We held a bunk meeting to talk about Matthew's light saber. The other kids responded in a way that neither he nor I would have imagined. They loved his cane and wanted to play with it.

Then the whistle sounded and the day was done. The kids ran back to their bunks and it was just Matthew and me. He whispered in my ear, "Thank you."

Sitting on the bench on the last day of camp, my college future came up. A 10-year-old was giving me advice when I expressed my worries. "Don't give up. You've got nothing stopping you. I can't see, for crying out loud!" he laughed.

Then it hit me. It took me eight weeks to realize what I did at that moment. Imagine the view of a city skyline with the sun beaming through, or a field of flowers blooming in spring. Even a flurry of snow on the first day of winter is something we take for granted. Matthew was robbed of all these, but he could still make 12 kids at camp laugh. He made the best of it. I learned to stop holding myself back and capture my goals, no matter how far-fetched they might seem. We helped each other a lot that summer. A summer I will never forget – the summer I met Matthew.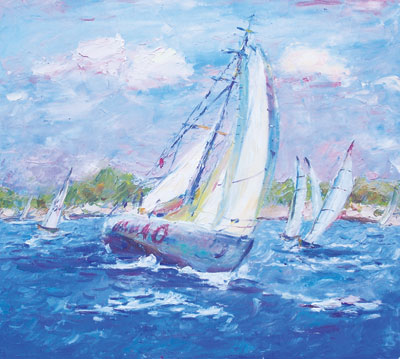 © Xiao H., Naperville, IL