Plight of a 17-year-old's Colorful Floating Rubber
October 15, 2010
It was on my 17th birthday when I received my first birthday balloons. My friend, RB, gave me these "colorful floating rubber", as she called them, right before our final examinations. I was infinitely grateful. I never received anything as thoughtful as this before. In exchange, I allowed her to hug me which was a big deal considering I don't let people hug me ever.

Sometimes, in our campus, I see students being surprised by their friends with expensive cakes and bouquets that always made me jealous. Why can't I have a birthday like that, surprises and all? You see, the birthdays I do remember, which started when I was five years old, involved extra pocket money, ice cream and my dad's business friends. By the time I was 10, I decided to spend my birthday alone.

This was why those balloons were special in my eyes. To me, they were intricately arranged. It's as if the colors were handpicked to describe who I am----colorful. Each string was messily tied up on purpose that added its essence. Plus, they float! It's very hard to find floating balloons in the city. Trust me, I tried looking. I couldn't let them go. I tied them on my wrist while taking the exams. Other students were looking at this queer girl with a dozen balloons but I didn't care. My friends called me a little kid because I couldn't stop beaming at my balloons.

Finally, my exams were over and it was time to spend that P500 my lolo [grandfather] gave me. I thought of treating my friends to dinner but decided against it. RB wasn't there. She was still taking exams and it was getting late. Besides, I don't think P500 is enough to feed my barkada [group of friends] of 10.

So, I walked to the nearest restaurant from our school that sold my favorite dish, palabok. Eyes followed me as I crossed the street in high spirits but my mood changed when this dirty little boy jumped on me, trying to grab one of my precious balloons. Street children were a common annoyance in front of our school. Usually, we would feel sorry for them but they just can't stop asking for more. I told that boy to lay off of me and walked twice as fast away from him.

Inside the restaurant, I stared at my only gift of the day tied on the chair in front me as I waited for my order of palabok, coffee and cake. I couldn't stop thinking about how happy I was that RB gave me those balloons. Then, my thoughts lingered to that boy who wanted my balloons so bad. I bet he never had a balloon on his birthday before. I tried swallowing the guilt creeping up my spine and was thankful for the interruption when the waiter placed my order on the table.

I didn't have the heart to finish what I bought. Worse, I kept looking at another street kid through the window who was looking at every single person eating ---- while sucking his thumb! The boy would quietly step inside the restaurant and ask random people for alms but they would either shake their heads or ignore him completely. The waiters would chase him away, threatening to call the police, but he would always come right back in. It was heartbreaking! Could you blame me for losing my appetite?

I looked at the ragged kid and then at my unfinished palabok and untouched slice of cake. I bet that kid never had cake before. Conscience and pity went up to my eyes. "Looks like this is the end, my friend," I said to my colorful floating rubber. "It was fun while it lasted." The balloons nodded their agreement.

Immediately, I bought four packs of mini-cake and brought the untouched cake as well as my balloons with me. I told the thumb-sucking boy to come with me. "We'll be having ourselves a birthday party." Shamefully, I couldn't find the dirty little boy who jumped at me earlier but I was able to gather at least ten street children.

It was on my 17th birthday when I was actually grateful for random children to sing me "Happy Birthday". We all gathered at one of the benches in Divisoria, a park in the middle of a street. I made them all sing me "Happy Birthday" first. No way am I giving out expensive cake without something in return. Their voices made my eyes swell but I gulped it down hard. It's been a long time since that song brought such nostalgia into me. Is it always like this when you give to the poor?

It was time to break the bread ---- in this case, cake. I tried to divide them as equally as I could but some of them would grab greedily. Didn't their parents teach them to share? Did they even have parents at all? Or maybe their parents taught them that it was a doggie-dog world out there? Well, at least they said their thank you's and happy birthday's.

My dear balloons suffered the same plight as the cake. The kids tugged hard for their balloons. Some practically gnawed through the string to assure they have one. Two of my floating rubber went up to a better place. It was scary to see little children their age to get so violent over something as innocent as balloons. Will they remain this crude forever?

The commotion died down. Some of them moved on to other restaurants, hoping to get more food. A few disappeared to the corner of the street and sniff rugby ---- sad, I know. Only half was left and we all exchanged stories. I am glad to note that they are all attending school. Apparently, they either beg or sell cigarettes and assorted candies to help their parents. Maybe there's hope after all.

One of the girls tugged at my sleeve and told me that there's a guy behind me who wants to know my name. Now, I had my fair share of creeps before and told her that I wasn't interested. She went and reported it to whoever it was while I explained to the rest what the word complicated meant. These children were eager to learn. A good sign.

It was on my 17th birthday when I received my first birthday cake from strangers. The girl brought me back a box with a flat, heart-shaped cake complete with a lit pink candle. Oh my God! I've never had a candlelit cake since I was nine! I felt like colorful floating rubber all over again…but I couldn't take it really. I turned and offered to give it back but they wouldn't have it.

The cake was from this trio who were a little older than me. "No, we want you to have it," one of them said. "It's not everyday we see a girl who gives out balloons to street children on her birthday." Aw, shocks. How could you not blush at a statement like that? If only they knew I did it out of guilt…

So, I spent the rest of my night talking with my new friends, the old and the ragged. We kept saying the word complicated a lot. Time does fly when you're having fun. It was way past my curfew so I had to say goodbye or else lolo will have my head.

My prayers were answered. I got myself a birthday filled with surprises and all. It was on my 17th birthday that I told myself I should spend my birthdays like this all the time. I just hope RB would understand what I did to her balloons though.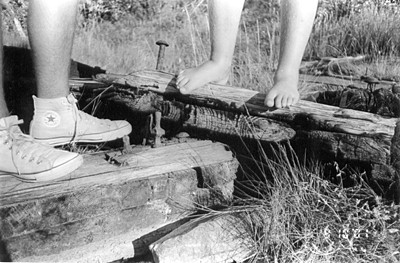 © Sarah R., Marblehead, MA