All About The Journey
October 13, 2010
It is morning and as I woke, I saw a quick light and somehow felt as if the lights of heaven were flashing upon me, as if to tell me something, although at the time I wasn't really sure what it was. As I think back on that day now, I wonder how I could have been better prepared, for I knew someday it would happen, it would have to, but when it did it seemingly turned out to be the worst day of my life. It's hard to explain what happened that day, and the days that followed, it was one of those days where you really didn't know or couldn't understand what was happening and when you looked around as if to ask questions, everyone around you was moving in slow motion and the sounds of their voices were slurred and you couldn't put your finger on what it was they were saying. Now at the age of 17, I sometimes wonder if these are the things one must endure in order to understand what life is really all about. Is it, as my mother says "All about the journey?" It's painful for sure and somewhat confusing at best. Often I hear other adults speak to their kids and utter the words, " All you have to do is go to school, do your chores, it's pretty simple." Well I am here to debate that, and help make them understand that life isn't always as simple as most seem to think.

It was a Friday, and my sister, my mom, my dad and I awoke as if it were any other day. We all got ready and went on with our usual routine. My dad drove my sister and me to school every morning. She went to Central, and I attended Plainview Middle School. My parents thought school was important, but I of course didn't feel the same way and my Grandfather, well he thought it was important because everything in my life was important to him. My parents both worked full time, and my mom would pick my sister and I up on her way home from work, and take us to swim practice. It was on this day though, that my mom was late picking me up, and in turn we didn't go to swim practice that day. I was waiting at the school for a good half hour that day, wondering and thinking about what could have happened. Being on time isn't something my mom does well, but on this day I just felt that there was something wrong. Finally, there she was, looking at me through a dirty car window as I stood alone on the grass awaiting her arrival. As I stared back at her, I knew right away that something had happened; it was the look on her face and the mournful tears in her eyes. I slowly approached the car, and then put my face up to the window, asking her what was wrong. At first there was silence, but then she said my Grandfather had fallen and couldn't get up. Immediately I started to cry along with my mom, and I asked where he was. She said, "Get in the car," and then started to explain. She said that my grandfather was in the emergency room and that he was okay for now, and that they were running some tests. I started to question her, because as we all know, the phrase "okay for now" is never good, and I wondered exactly what she meant by that. As she started to explain, I tried to slow the steady stream of tears that flooded my face and seemed to fill my heart with sadness. And then it came, with no warning, the big question: "Is my Grandpa going to die?" My mom had this puzzled look and her answer seemed to take an eternity, and she simply said, "Kelsey I honestly don't know." She finished by telling me that my grandfather had what they thought was stomach cancer, and that it had quickly spread but the tests would tell us more. I didn't know what to say, so for the rest of the ride I just didn't talk. Instead we were left with a complete and heart wrenching silence. We arrived at the hospital, somewhere I hadn't been since my big grandma passed away many years before, and just as I did then, I hesitated before going in. I've always had this thing about hospitals; I just freak out when I have to go in one. I don't really know why, I guess, I just don't like seeing people suffer. So I stood there, took a deep breath and walked in. As I walked, I could see my sister sitting in the waiting room and I asked where my grandfather's room was, she said, "It's down the hall, first door to your left." I'm sure on that day she was feeling just as I was, alone and afraid. As I walked down the hall I started to think what was going to happen if things got worse. Upon arriving at my grandfather's door, I saw my Grandpa lying in his bed watching his favorite show, "Everyone Loves Raymond." This made me laugh. My grandfather saw me and said, "How's my little girl doing?" I smiled and said "Good Grandpa, how are you?" He simply said, "I'm doing fine baby." And it's strange, but he looked exactly that. It's funny what cancer can do to you, because my Grandfather looked the same on the outside but apparently was not as good on the inside. All I could do was stare at him and think to myself, why is this happening to me? Why God, why me? After about on hour at the hospital, I couldn't take it anymore, so I went to my friend's house. I said goodbye to my grandfather and told him I loved him more then anything in the world, and he said "I love you too baby." There I was escaping to my friends house, thinking I would get all of this off my mid. But as they say, you can run, but you can't hide. Our hospital visits were daily that week, we went every day after school and stayed for quite awhile. Things weren't the best, but at least they weren't the worst and every day I still held out hope. That was until I go the phone call. It was my mom, she had called to tell me that my grandfather had gotten worse and the doctors thought it was best to have him moved to Hospice on 45th street for better care. At first I was silent, thinking of what to say. I couldn't speak, so I just told her I loved her and hung up. When I hung up, I thought to myself isn't that where my Dad had gone for his treatments just a month or so prior and I couldn't figure out for the life of me why my Grandpa would be going there as well. Well, later I found out that there were two totally different properties on that block, one for Hanley Hazelden, an alcohol treatment facility and one for Hospice patients. Two totally separate places that have made two totally significant marks on my life. My grandfather was at Hospice for about a week and a half. I was there every day to see him. They were long days and sad days, and some days were certainly harder than others, and most were days I just didn't even want to be there at all. It wasn't because I didn't want to be there with him, but because thinking of him there alone would make me even sadder. Thinking that I was about to lose on of the most important people in my life had this choke hold on my heart that I cannot even begin to explain to anyone from someone that had endured so much sadness just weeks prior. The days began to grow into nights and my grandma, my mom, and two uncles began to stay the night there. They stayed for hours, and hours trying to get my grandpa to open his eyes and see if he would talk to them even if it were just for a minute. They laughed as they reminded him of how stubborn he was and begged for just one word so that they knew he was okay. It was still early, and my Dad and I were on our way to Hospice and we began to have a conversation. You see my Dad is a lot like my Grandpa, he's a quiet man, so for him talking to me about important things in life was really big. We began to talk about his drinking problem that arouse just weeks prior. He went on to apologize, apologize for continuing with his habit for several years and now stopping for the benefit of my sister and I, and also apologized for not being as close as he should have been with us because he was always working. You couldn't tell by looking at him that he was an alcoholic, but you could certainly tell by living with him. Alcoholics aren't bad people, they just need to find a way to run and hide from something instead of just facing it. They feel that avoiding or not confronting whatever situation that they are in is just easier than trying to solve it. We continued to talk the rest of the way when he said the one thing that would help make everything a little better: "I'm sorry!" We began to pull into the parking lot and somehow the conversation just stopped and suddenly, it was like we hit a brick wall. We got out and walked in through the doors and as I was walking down the hallway, I saw my two uncles waiting outside. I thought that something had happened, but everything was okay….for now. I walked into the room, my grandma yelled to my Grandfather, "Jimmy, Kelsey's here to see you." Then it was like nothing was wrong, like an angel had sent my Grandpa to see me one last time. He opened his eyes so fast and did this facial expression that he was oh so good at. It was a surprise reaction, just like the one he would make when we played the sleeping game as he sat snoring in his chair at home. He was looking directly at me but somehow I felt he was still trying to find me. He really didn't say much because it was hard for him, but he tried.

I sat in the room alone with him that last day and began to make good on the promise I had made to my mother. She told me it was time; time to do one of the hardest things in my life, time to say goodbye to my grandpa. She said to me, "He will hold on you see, until you let him know that you'll be okay," and so I did. I just sat and talked to him about everyday life. About how much I was going to miss him, and asked him who was going to take me and my cousins fishing, and who was going to yell at the dogs for being on the couch. I told him that he meant the world to me, and that I was sorry if I ever did anything not to please him and that I would try to carry on my life just as he did his, in a loving and caring way. And that was it, my Grandma and everyone else came back in the room and I told him I loved him, and we surrounded him with as much love as we could that day and we watched him as he took his last breathe, something that I will never forget, and will carry with me for the rest of my life.

So you see, it really isn't as simple as some would say, nor will it ever be for me again and I know that. But now I have to make good on that promise I made my Grandpa and that's to live my life just as he did, in a loving caring way. This is the day I found out that it is "All About the Journey."

In loving memory of James Frederick C., 11/21/06.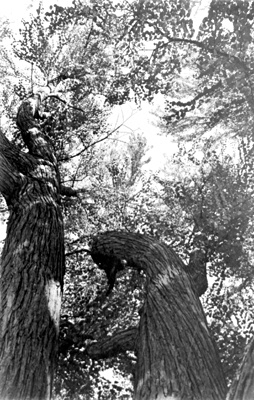 © Tim K., Marblehead, MA