Knowing
October 13, 2010
Hearing my siblings cries through the walls of my bedroom, a feeling of horrible sorrow dropped in my stomach, five years ago.. Even though it was so long ago, it is still fresh within my mind. Some thing like that is just to hard to forget. That was the night that my step-mother, who had been there all my life, but hadn't shown much love to me, had declared to my father that she had wanted a divorce.

Before she told my dad, she told me. She said she just didn't love him anymore. She said that a divorce was the best way to go. She also said it wasn't mine or any of my siblings' faults, but that didn't take away the stabbing pain and inevitable guilt. She also told me not to tell my siblings about it because she wanted to talk them first. She didn't.

Katy, that was her name, then went outside to talk to my unsuspecting dad. I heard shouts through the front door and Katy ran back inside all teary eyed. The only thing she said to me was "I told him." and I ran to my room. My sisters were so confused. They kept asking me what was going on but I was crying to hard to be able to explain. Then we heard the family van start up and we saw the headlights swing around outside the window and we watched our father take off. Finally, Katy told my sisters what was going on. Their reaction was a little more extreme as mine was. Maybe because I sort of saw it coming, and they were clueless.

That was one of the longest nights of my life. I tried to console my siblings, but to no avail. Finally the mourning came. I was woken up by my dad calling out my name. We had to go, was really all he said. Beings I was the only child that wasn't biologically Katy's I had no choice but to go with my dad. Not that it would have mattered if I did have a choice because I would chose to go with my dad anyways. Up and ready, I headed for the door. Katy came out of the bedroom she and my dad had used to share and asked if my dad would also take my siblings along too, for now. So, as confused as we all were, we got them up and ready too.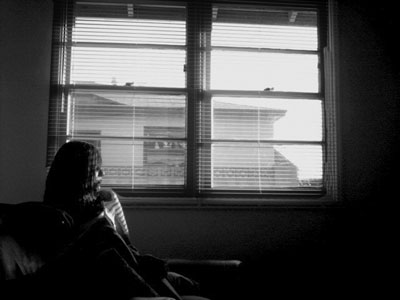 © Roxana R., Tustin, CA