Airplane
October 12, 2010
When I woke up it was a good day. I was excited to fly for the first time. I was nervous but excited. My plane to Seattle was scheduled to leave Spokane International Airport at 12:30pm, so I was up at 8:50am for breakfast. I was at my friend CJ's house because he was taking me. We played video games for 2 ½ hrs. Then we left for the airport.
We were almost down the south hill when I remembered that I had forgotten my I pod, so we turned around and went back and got it. Then we were driving downtown getting on the freeway when the oil gauge in his car started to sway back and forth. I told him we should check his oil. He said it would be alright until he got home, so we continued on our journey to the airport.
We were almost to the airport when suddenly CJ quickly turned his head to me said, "My car just turned off". In disbelief I said, "Yea right" He reassured me by saying, "Dude I'm not kidding I have to pull over to the side of the road. I was bummed I started to think that I was going to miss my plane (which I could not do) to Seattle. I was going to miss my sister's wedding. I was very sad. We then started to call his mom, sister, and dad. His mom told us to call his insurance agent. His sister was on her way to come pick me up, so I could possibly make my flight. And his dad was pissed off that his car was fried.
At this time it was 12:15pm. I was late and started to panic. As the minutes went by I was nervously awaiting the arrival of CJ's sister. Once she finally arrived I was excited. We took off toward the airport at a whirling 85mph. I got there 3 minutes later and rushed toward the counter of Alaskan Airlines. I told everyone in the line my situation while all at the same time they sighed, "AHHHHHH, how sweet", and let me cut to the front of the line, so I would not miss my sister's wedding.
Once in line the airline desk attendant told me that I could not board my plane on such short notice. I gave her the puppy dog-eyes, and she let me by. Then I had to get through security. I walked up took off my shoes, wallet, cell phone, and put them in the bucket. I then walked through the metal detector. I was clear, but then the security said that my (full) deodorant spray was too large so I said "throw it". Once through security I ran toward the gate from which my plane was scheduled to depart. I asked the desk attendant if I could still make my plane, and I found out that my airplane was delayed 30min and was pulling in right as we were speaking. I breathed a sigh of relief and proceeded to board my plane. Everything turned out to be good. Except that my seat was next to the biggest lady on the plane, but hey everything doesn't always go your way.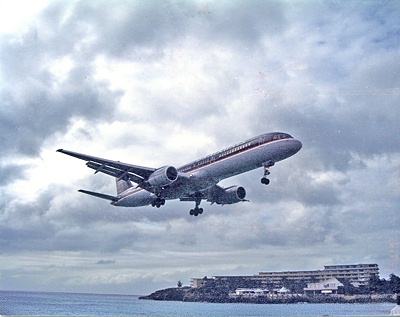 © Keith K., Milford, CT