The Long Journey
October 12, 2010
"Mom, I'm leaving!" I shout to my mother. "Alright, Amy. Don't be too late tonight." she replies back to me.

Today just so happens to be a beautiful, sunny morning, about eleven A.M. and is already about eighty degrees. The sun, beaming through the kitchen window, makes me excited for my long adventure that I'm about ready to take on. I turn on the water faucet, grab a water bottle out of the cabinet, and fill it with ice cold water. Gently, I put it in the freezer. Then, I walk out to the living room and sit down on the floor. I am needing a real good stretch before I take this trip. With blood pulsing through my veins, I am now prepared to get on my bike and ride it about thirteen miles to Columbia City.

My bike, sparkling in the sunlight, is sitting, waiting for me by the garage. I put my water bottle in the holder, strap my stuff on it, put my ear buds in, and I'm off. The breeze is blowing through my hair softly as I begin to ride down my street. I'm not even out of South Whitley, and I'm already thoroughly enjoying myself.

My bike is my escape from the real world, my relaxation, my getaway, letting me drift away into some dream world I know of. Taking on these long trips on my bike helps me completely clear my mind.

Now that I'm officially out of town and in the country, I can finally go into my full state of relaxation. The sun beating on my skin softly eases me into this state, warming me. Not many cars or people as well make it easy to erase your thoughts as music from your iPod is flowing through your head. Every so often now, I reach down for my water bottle to get a drink. As the day goes on, it gradually gets warmer. The hills make it ever so intense with pedaling harder as you go up them and gliding down them so fast. With so many of these hills, it's like a roller coaster. Never does it get old.

About three quarters of the way there, my legs start to burn, but I keep going at a steady pace. I'm getting warmer and longing for some cold water more and more by the minute, yet I still love it. What would this trip be without challenge?

After an hour passed of riding my bike, I finally get to the outskirts of Columbia City. It feels good to finally have made it. I reach down to my bag and text my friend, telling him that I was finally in town. Riding through town to my friend's house, I think of how great a refreshing drink would be, or even better yet: a strawberry smoothie from Dairy Queen. I reach his house, get off my bike, and put my kick stand down. Only is it when I get off my bike that I realize my legs feel like Jell-O. I walk around a bit, trying to get the shaky, wobbly feeling out of my legs. What a feeling that is, but it slowly sinks away when my friend and I walk around town and hang out.

A couple hours go by, and I decide I need to head home. Buying one last bottle of water, beginning my journey home, my escape begins again.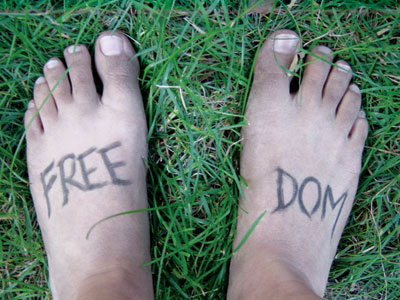 © Anna B., Northville, MI