Always a Friend in Jesus
October 5, 2010
I was nine years old when my parents made the decision; a decision that would rock my world and ultimately change my life forever. I remember sitting on the living room floor of our small home in Middleburg Pennsylvania, a town with more cows then people, and being able to feel the tension as my parents spoke to me and my brother. They tried to introduce the subject slowly to us, but to no avail, the news hit us like a tidal wave. "We are moving to the city to become missionaries". My brother immediately broke down crying, while I sat there in sort of a surprised shock sort of state. Immediately thinking of my friends, family, house, and way of life, I wondered what was to become of all of it? Who would fill the newly created void in my life? Almost six years later and I can proudly say I have an answer to that question. No matter where I am, what I've done, or who I've become, I will always have a friend in Jesus Christ.
The move was about what I expected it to be; things in boxes here, things thrown away there, but what I wasn't prepared for was the empty house. I stood there, in what used to be our room, now stripped and barren. To me, this room symbolized everything I was about to leave behind, for what seemed like a ludicrous and pointless adventure at the time. I had never felt so alone and forsaken. Full of despair, I trudged out to the car and took one last look at the house before it vanished behind a clump of trees as we drove off to what would become some of the most hectic yet amazing years of my life.
The house in Medina, Ohio was about what you would expect for a normal suburban home, one story with a basement and a huge yard. Yet I still couldn't see myself living there for the next several years of my life, standing there on that cold autumn day in September. The idea of losing all my friends for new ones was still too much for me to think about, so I pushed it to the back of my mind and drew further into my lonely shell. My new school was ok at first. My dad had found a job as the principal of a Christian school as sort of a halfway point for our family as we raised money to start our church in Cleveland. As time past I opened up and made new friends, but there was something different about these people. I attended a Mennonite school for the first part of my learning experience, and wasn't used to these people who seemed to have experienced a taste of Secularism in their lives. It threw me for a bit, but me, being a follower and wanting to make new friends to replace the void in my life, went right along with them, making jokes at others expense, doing whatever it took to get a laugh; applying myself to the bare minimum, relying on natural ability for grades. O sure I got the grades, but what was a letter if you didn't really care about the material? But something always seemed to bug me when I was making a joke or disregarding school, as if someone was displeased with me and gently telling me to get back on track. During this period, four years of my life passed. I watched friends come and go, always finding someone group myself with, regardless of their attitudes or actions. I can say that at this point in my life, my spiritual and moral life were that last of my concerns.
Then we made the second move, countless hours of traveling across the country to various churches and groups had finally earned us enough money to become full-time church planters. What all this basically meant to me was saying goodbye to another group of close friends and being forced into another environment which I didn't want to be put into. We again loaded up our things, some of them still packed from the first move due to our busy schedules, and moved about forty minutes away to inner city Cleveland, where I currently live today. The house was nice, and I wasn't opposed to living there. I figured I could still contact my friends if I wanted to see them, seeing as they only lived forty minutes away. I soon found out that it would be much more difficult then that. We continued to attend school for another year from our Cleveland home, driving forty minutes there and back each day, which became a huge burden for me and my parents. Transporting 4 kids back and forth and keeping a toddler busy day in and day out for a year broke my parents down physically and mentally to the point where we had to end our attendance there after the school year ended in 2009.
So there it happened again, I was alone. No friends, no companionship, nothing. I lost faith in the ability to keep friends. I didn't see the point. I would just have to sever ties eventually anyway was my mindset. I began attending school with my brother, while my sisters attended a local public school in our area. It was weird to me at first, it seemed that not only did I not have the chance to make friends, but I had no desire to either. I withdrew further into myself and began shunning everyone and becoming more irritable daily. It was then that I began attending a home-school co-op. Originally I only played sports for them, but we thought we'd give their Friday classes a try. I was still anti-social at this point, but as I looked at these kids, there was something about them that intrigued me. They were different; they all seemed to share a common love. It was just the way they carried themselves. I could tell that these people didn't just say they were Christians, they lived it. It enticed me immediately, I made friends again, and under the amazing spiritual leaders there, I began to realize something.
What was it that had kept me going all this time? How had I managed to get through this without basically destroying myself? It was Jesus. When we moved from Pennsylvania, he watched over me, and gave me the small comfort as I cried myself to sleep. When we lived in medina, he provoked me into thinking about who I was with and what I was doing, and was it really right? And most importantly, I realized that I had always had a friend. He was always there for me. I had tried to shut him out of my life, keeping the spiritual and normal every day life apart. Had I let him in, the feelings of loneliness and separation would never have existed. I immediately plunged into God's word, to learn more about this concept I discovered, making the bond between me and Him only grow stronger. It was then I realized that being with Jesus was more then a friendship, it's a way of living your life, a way that I continue to live by today.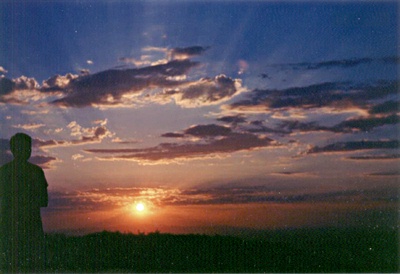 © Jovee B., Dededo, Guam