On: Growing Up
September 28, 2010
When I was six years old the highlight of my day was my Grandma giving me a Huggie, a root beer float ice cream bar, and a salami sandwich on potato bread. I would spend the day outside in the woodshed playing the servant in our game of house with my cousins or shooting rogue zombies as Jill from Resident Evil with the neighbor boys.

When I was ten years old the highlight of my day was riding my horse. Controlling a thirteen-hundred lb. animal with the flick of my wrist sent chills running down my back. The meanest pony in the whole barn, ironically named Sugar, was usually my companion on most adventures due to her tough as nails attitude. We were in a clearing in the woods with a fellow rider and her pony, the adorable Teddy. Running straight at a fallen over log and jumping over with with a foot to spare tends to leave me in a vulnerable Napoleon state of mind.

When I was fifteen years old the highlight of my day was going to a football game just once a week, usually a Friday night. The air stung my checks and bit my nose while my breath, frosting the colors in the bleachers, painted a pretty picture. My friends were there screaming with me, louder than me as we won the game.

Now, at the age of eighteen all I can relate as a thrill happens just one day every other week. I walk into work, knock on the office door and ask for my paycheck. I put three-fourths away and spend the rest on over priced clothes and stupid things I really don't need. What a rush.

Yet here I am wishing for it all back again. I wish for that imaginative view on the world once again. Instead of seeing a field, I still want to see a battlefield. Rather than seeing a cardboard box, I want to see a castle. I want to see the world and become completely thrilled over a Huggie and a salami sandwich. I couldn't wait to grow up; now I'd to anything to give it all back.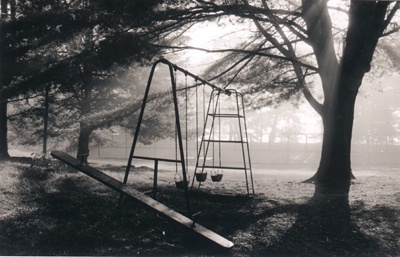 © Steve S., Marblehead, MA