Cooking
September 29, 2010
Cooking is one of the most under appreciated arts in the world. People all over the world cook all day every day create it, and their art is gone as fast as they create it. I cook often and like to experiment with flavors and amounts of different ingredients.
I think that I love to cook because mom and I used to bake cookies and cook dinner when I was younger than preschool age. I would push a chair up to the counter in the kitchen, and she would have me stir and measure the ingredients for her. Sometimes if she was lacking patience then she would have me stir her coffee, but whatever she had me do was always fun. Then when it was finished she always introduced the final product to my dad, my sister, and whoever else was there as mine without any reference to herself. It meant the world to me to be able to claim that something that tasted good and made people happy was mine.
Today, twelve years later I help Keeli, my 3-year old sister, get the same feeling when we go through recipe books and choose whatever she wants to make. Then we will go through the steps until we come up with something that looks and smells good, but may or may not be edible. She dumps in the ingredients and stirs for me, then tries to eat the raw cookie dough while I freak out about the chance of her contracting salmonella from it. When it's cooking she will be found watching the oven, as though it will make them come out faster. Then waiting for the cookies cool and singing the Barney "Clean Up" song, we put the kitchen back in order. Then she gets first choice from whatever it was that we made.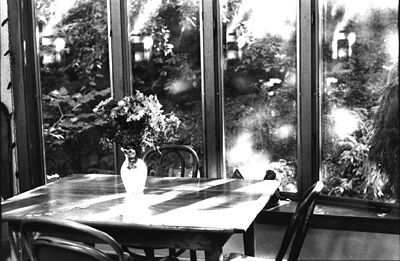 © Bree C., Marblehead, MA