My Shed, Me
September 23, 2010
My shed, the shed i go to everyday. The shed I can sit in and ponder out the window in to the world of wonders. The aqua color paint peeling from the blizzards that enclose the town.My parents just think of it all as debris, but to me it is so much more then that.Comfort and serenity fill my heart as I wander through all the abandoned possessions.
The slightly crowded room contains a rusty old freezer bought for a bargain, my dads farming supplies, and brown chair with a tan cussion that is agonizing pain to my bum. When the screaming and crying is deafening, I would disappear for a slight second, and that was my destination point.
The secure sheltered area is soothing and allows you to forget of all the days problems. When I get into an arguement with my sister this is where I go, no more worries or conserns. The building that lies in my backyard, surrounded by cement where my footprints rest and rose bushes that are so powerful to make me gaze for hours. As I walk to the shed i compare the difference in the years that have gone by.
The shed does not have anything to keep me entertained just a chair that stares out the glass window. For some odd reason this is what I enjoy when I'm angry. No one besides my dad and I approach the shed. I'm not sure why my mom never sends kayla, vanessa, or kattie. Maybe because the fact that they detest going outside unless they really have too.
The shed door is always open, during the day, evening, and night time. Everthing seems to be as we left it, no one bothers to enter. The shed has no light so when I go during the night I always have to take my pink polka-dotted flashlight. This is the shed, the shed that explains who I am.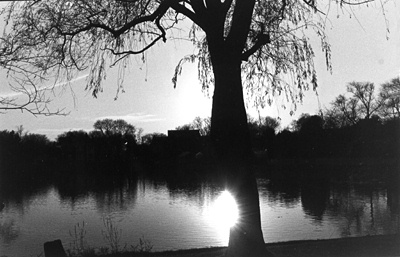 © Chuck K., Marblehead, MA