The Field
September 16, 2010
Thinking back to all the places i've been as a kid I get confused. Being little and moving around all the time doesn't seem like a bad thing because your little, but the odd reality is that point blank it stinks. Though, there was always one place where I loved to be growing up. That place was the field.

My grandparents live in Buxton. It's a small town where the people are friendly and everyone knows each other. There's a lot of farming there so theres mostly fields and farms. Every weekend I loved to go to my grandparents with my big cousin Christopher who actually was like my big brother. We'd take a short walk through the small stretch of woods and we were in this big field. We'd sit on the hill and talk about things. He was always listening to me whether it was silly or not.

Sometimes we'd take the four wheeler and go as fast as we could through the field. When it was winter we'd take the snowmobile and sit and watch the sun hit the snow just right so that it really sparkled. We'd roll on the hill and make snow angels and have snow ball fights. On warm summer nights when we'd play man hunt with my best friend who lived next to my grandparents he'd take me and we'd hide in the field and we won every time.

I still visit my grand parents sometimes but i never go in the field. I think if i went back now all the memories of growing up would race back into my mind and over whelm me with the warmth I once felt growing up. I'd sit and stare at the tall grass billowing in the wind. Id run my fingers on the smooth ground where the imprints of our four wheeler are slowly fading into just memories no longer visible to anyone else. I'd walk the length of the field letting the wind blow through my hair like it used to. Id stop and listen and I can still hear my giggling laughter as Chris pushed the throttle to go faster. I can still smell the exhaust in the air.

I miss my cousin deeply. He lives far away now but I know when he comes up and visits we'll go take that walk and be back in the field. The one place where we could be who we wanted. The one place where we were always surrounded by happiness. I hope someday I can take my kids there and watch them run through the fields and play and have that taste of what it's like to have fun just being a kid. I hope they enjoy it as much as we did. I hope they can look at this place as we did and honestly call it home.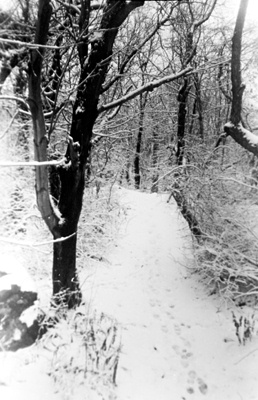 © Kelley C., Marblehead, MA