Only Man, 100%, Flying Free
September 19, 2010
I have always had problems trusting men. My father left when I was young and my step dad isn't much for affection. I recently broke up with my first boyfriend after an awful relationship that seems even more horrible in hindsight. Anyone else I just don't really trust, men really know how to lie. That's always been my view and I'm scared to change it. But see, I have a man I can depend on 100%, he won't ever leave or betray me or lie to me or hurt me. His name is Aztec. He's the only man I can trust.

Aztec is my horse. And this is our story. As a broken 11 year old I was excited to get a horse, an animal I had always wanted. I'd never really considered having a strong bond with anything. My cat was too stuck up and concieted and my dog wasn't born yet. When I got Aztec he was a year old and wild. He had never been trained for anything. We couldn't even touch him.

After hours and weeks of patient standing around with hay in our hands one day he slowly approached me I was proud to be the first one to touch him as he ate out of my hand with hesitation. I spent all summer standing with him, holding hay letting him become comfortable with being so close to me. Eventually I pet his nose then his forehead. A true bond was made, I would sit in the round pen with him and he would eat hay off my back, out of my hand, we would breath into eachother's noses and he would nibble my hair. He would follow me around and come to a whistle or a call of his name.

When he went away to a trainer I felt a loss, Aztec was the love of my life, his sweet eyes and curious, loving personality had me at his first trembling-lipped whinney. Coming back I was shocked. I was riding what had once been a wild baby and was now a growing adolesent. He was a genus, he could learn anything. I was proud and scared of him. He was different and so was I, I was now 13 and he was three, I had changed and he was more confident.

This summer was full of pain for me. When we moved Aztec closer to our home and rode him for the first time in a strange place for longer than ever, I realized we had never drifted apart, I was just scared he would not love me like he did. His familiar sweet eyes told me he'd always be there, unlike anyone else. When we rode together he knew what I needed of him this time, for him to just cooperate, I was too exhausted with life to deal with his stubborn streak. When we trotted I was suddenly free, his smooth gait made me weightless, I was flying and suddenly the world was so far away. I was ready to gallop with him for the first time but I didn't, I'm saving that for when this summer comes to haunt me. Because then, Aztec will know I need it, to be as free as he can make me and he'll be ready.

He's never left me behind, never let me go to far ahead. He knows when I'm in a spunky mood and when I just need the love of someone who won't let me down. He's my only man, 100% dependent and he sets me free. My little horse love.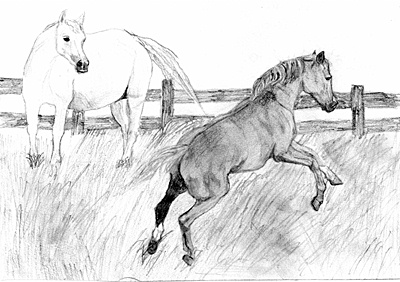 © Chelsea R., Ashland, WI