Washed Away
September 13, 2010
It's one of those days that is so humid that you are praying for rain. One like the day after "the accident." When rain was the only hope of washing away the extreme emotions of the afternoon before. At the first realization it was you, there was extreme shock and sadness. Then fear that you might be dead, and finally, tears of joy that in six months you would heal. The rain did come and it cleared away that mix of emotions you get when you can't decide how to feel. When you start thinking of what ifs and end up crying to your golf coach in front of the entire senior shop class. Rain has a way of calming you down and giving peace to your mind and body.

Right now I'm sitting on a metal hand railing, worn and rusted from years of rain. Paint chipped from usage and sturdy like an old man with years of work weighing down on him. I can see the river, which is flowing faster than usual, because of the rain earlier in the week. And for the first time since the car accident I feel relaxed and at ease.

The grass below me is long and green from rain. It probably needs to be mown, but it will keep growing, because it always keeps raining. I wait for the days like this and pray for rain to wash away the part of my busy mind, which keeps going back to the happiest moment of my life, when we walked into the ER and we could hear your brother scream and we knew you were alive.

Earthworms pop up at the sight of rain. They must also feel its calming powers. For I always see them when it rains and then the air smells like fish, and this I can't explain. It's a slimy smell that tickles your nose and changes your perspective of the earth. Maybe fish do live on land, or at least their smell does.

At my right I spy a tree. A newer one, with not much experience yet, but give it a few decades and then let it talk, and oh the stories it'll tell. How it was planted and how it grew, how it survived rain or shine, the people who sat beneath its shade and made it who it is today. I wonder sometimes what the trees by your accident would say.

When I look ahead I see the gnarled branches of an older tree. Its roots must be huge to keep this tree standing up so high. As it gathers more water from the rain before, I think of the picture on the news and the car lying ripped in half, and only being able to tell which side is which from the gas tank.

And on my left I see a bridge, just for walking or biking, or if you're really ambitious running. And spots are forming all over the bridge, the cement is stained for now, for it has started to sprinkle, and soon it will pour. And I hate that bridge and every bridge, because that one lane bridge over the hill on that gravel road almost took you from me. That bridge gave you a broken pinkie and swollen face, and your brother a broken pelvis, 18 screws, and 4 plates.

You see, the world, it revolves around rain, be it to help grow or help sustain, to clear a mind or let you free, whether human, animal, or tree. The world needs the rain to survive, but mostly it helps the world thrive.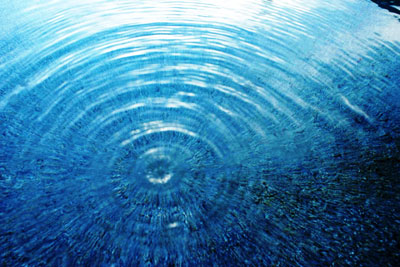 © Sadra L., Buckeye, AZ