Humbling the Humble
September 7, 2010
The deck of striped index cards fell from the pile to the cold ground below. I tried to kneel but the crutches wouldn't allow me to bend. How I wanted help. I needed it, craved for it. I managed to peel both of the crutches out from under my right arm, leaning them on a stand next to me.
My bulky, yellow purse pursued them. I managed to dump the monster of school supplies that my left arm clung to. I wished that I had gotten the shopping cart from that man when he had offered to get me one. You're too stubborn, I told myself. The blue locker shelf landed with a thud, making the contents spill to the floor.

I stumbled over to it on my swollen ankle, watching people stroll by as the pain jolted through my leg. I heard the buzz of a cell phone and the chirp of people's voices. Why don't any of them care? I wondered. A whimper escaped my lips as another bolt ran through my blue and purple foot. I eyed the crutches, despise consumed my veins.


I picked up the small index cards and put them onto the pile. I grabbed each item slowly, placing them into the shelf one by one.

"Can I carry that for you?"

I looked up to see a man with wavy, brown hair and an unshaved beard coming toward me. A black shirt fit loosely over his shoulders giving him the look of an old biker. He quickened his pace when he saw me pick up the heavy container.

I almost declared that I didn't need any help, but my eyes landed on the crutches to my right.

"Sure," I said. My voice barely making it over a whisper, "Thank you."

I grabbed my massive purse and the noisy crutches after the gentleman took my supplies.

"Where are you going?" He asked as a smile appeared on his face.

His grin comforted me. "I was trying to get a cart." I smirked.

The click of my crutches slowed down as the man walked slowly to give me time to keep up. "Going to your first year of college?"

"Not yet." I chuckled.

"My first year of college," He informed me. "I broke both of my arms in a motorcycle accident. It was a great way to start college."

We both laughed. I looked at the bald employee standing by the carts. I sighed as he stared at my wrapped ankle and old crutches.

"Can I—do you need a cart?" His stomach bobbed as he asked.

The man with my books nodded. He smiled at me again as he put my things into the cart.

I placed one of my crutches into the cart so that I could use one of my hands to steer. "Thank you so…" I looked up to see that the man was gone.

I stood dumb struck for a minute. I tried to find him, but he had disappeared. I pushed the cart with my left arm, limping with my right. I wish I could have said thank you, I thought. I trudged down the aisle wondering why he had helped me. If only there were more people like that in the world, I mumbled to myself, he just stopped everything he was doing to help me. I knew that I wouldn't ever see him again, but I also knew that I could pass his kindness on to others, telling them about the man who had broken both his arms as I helped them.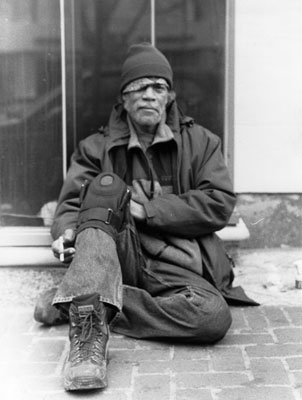 © Marie D., McLean, VA