The Best Christmas Present Ever
August 16, 2010
I glanced up at my teddy bear alarm clock. 8:00am, Christmas Day, 2003. I crept into the next room to rouse my little brother. We thundered down the stairs at a reckless pace. I tried desperately to keep the noise down, as I didn't want to wake my dad. I wasn't expecting miracles; he had looked pale and peaky the night before, and he would probably be too weak to venture downstairs. A squeal of delight erupted from the sitting room where Santa always deposited our presents (he evidently couldn't attempt the short journey upstairs). I hastily joined my brother and I, too, couldn't suppress my sheer amazement. Gifts, every colour of the rainbow and then some, shimmered enticingly in front of my eyes, with the indescribable scent and sheen of 'new toy'. I began tearing bothersome and clumsy packaging from the dolls, books and knick-knacks straight away, surrounding myself with a sea of cardboard and crinkly wrapping.
But the best was yet to arrive. As I whizzed around to glean proudly at my pile of newly claimed treasures, a miracle met my eyes. My father, standing tall in the middle of the room, my mother at his side. A beaming smile framed his face, despite his intense pain. He eased himself into his blue upholstered armchair, and patted his knees, beckoning us forward. My brother lunged for prime position immediately, but I was hesitant. I tip-toed over to the chair silently, and lowered myself gingerly onto his other knee, taking care not to touch his spiky stitches. He wrapped his arm around me and pulled me into a bear hug. All day he masked his demons; he put all of our infuriating toys together, made jokes at the dinner table, watched the standard corny films in front of the roaring fire. Yet all the time I couldn't see the sparkle that usually brightened up his misty eyes. Maybe he foresaw something of which the rest of us were all blissfully unaware.
Regardless, the best Christmas present I ever received wasn't my Barbie dance mat or my Sssh! Don't Wake Dad board game (ironic, I know) or my Tiny Tears baby. It was being able to capture and save a memory of spending the best time of the year with the people that mattered to me, and feeling on top of the world, if only for a short while...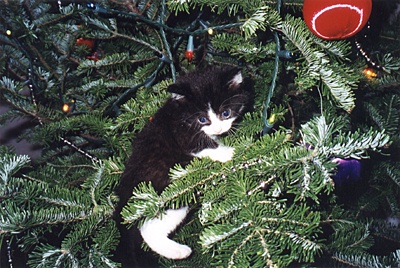 © Torey B., McLean, VA