Dear Dad,
August 11, 2010
Today I woke up at 10 am and my Dad asked me what I wanted for breakfast. Usually, nothing for me. Otherwise I would fend for myself, being the independent morning eater I am. But this morning, I wanted some waffles. Two, to be exact. Oh, and a side of that new raisin bread all toasted and buttered up. My Dad agreed and went to make it for me.
A couple minutes later, I was in waffle heaven making sure that I filled each waffle hole with yummy syrup. With a tall glass of milk to wash it all down, breakfast was nice. It was only after I finished my first waffle that I realized that my Dad forgot my raisin bread toast. Usually I would've said something. You know, to remind my Dad that he forgot the last bit of my breakfast order. But instead I said nothing. I'm not exactly sure why, but I just didn't feel like bothering him to get me some toast. And you know what? I was quiet content with my waffles and glass of milk.
Later on in the evening, my Dad summoned me for dinner. I walked out onto the porch where we ate dinners during the summer and fall when the weather was favorable. It was one of those days. I sat down ready to eat a hearty meal of chicken and dumplings, one of my favorites that my Mom makes. Before I know it, the food is all set out and ready to devour. But first my Dad plopped a piece of toast onto my plate.
"What's this?" I ask my Dad.
"Resin bread toast to start off our dinner," he replied excitedly.
That's when I realized he remembered the toast from earlier that morning. It really wasn't all that important that I got that toast, but it was sweet that he remembered and made an effort to pay me back.
I devoured that toast. It was delicious. The butter melted into the bread. Exactly how I like it.
You see, my Dad is really a goof. He only likes plain ice cream. Vanilla. Chocolate. Strawberry. No fancy stuff. So when I bought some Moose Tracks ice cream with the little peanut buttercups in it (my favorite!), my Dad would pick out every single peanut buttercup and chocolate swirl in it until he only had plain vanilla ice cream left. And because his metabolism is so high, he would eat it every night not gaining a single pound until it was all gone and, naturally he didn't tell me. Don't worry though, I thought this was pretty funny. You think he'd just go out and buy some vanilla ice cream for himself, but nope. He's a funny guy like that. Now, I have to label my ice cream to be mine so he doesn't eat it all. My Mom makes sure we buy enough plain ice cream for him as well. Never does he complain, though, about us never having plain ice cream for him. Never does he complain about much.
My Dad. The only man I've met on this earth that has gone through so much and has never whipped back in anger or anguish. Even when my Mom is frustrated with work and is extremely moody, he never is angry back to her. Even when I'm angry with him for minuscule reasons, he never yells back. He's very patient and strong. And he's funny. And he can comfort you when you're upset.
I remember last year he was driving me to school one morning. I was semi-late to school and I was freaking out because of school and how my grades were slipping. I was cracking under so much pressure and was hurting. I told him that I couldn't go to school that day. I was just too stressed. I wasn't smart enough. I was too dumb. On instinct I assume, my Dad corrected me. Saying that I was NOT dumb. I was smart. I could do this and that I needed to face my problems rather than running from them. I was so scared and upset. Why couldn't he just let me hide from my school problems? I knew I was going to have to face them eventually, but just not now. He dropped me off at school, told me he loved me, and I slammed the door. Purely out of frustration and being upset. I regret that now more than most anything. It was the equivalent to slamming the door on God. One of the few people on this earth who unconditionally love you from start to finish. It was a horrible thing for me to do.
The past two summers I have attended Blue Lake Fine Arts Camp. Both years were amazing time and time again. The experience was awesome and I met so many new friends. I honestly did not miss home both times when I was there. I don't know why either. I just was having a lot of fun at camp. If I could, I would probably live there.
On the last day, aka performance day, all the campers' parents come in to pick up their children after their orchestra/band/choir/theatre/dance/art performance or show case. Basically you hang around your unit until your parents come. Then you can check out with your counselor and give your parents a tour of Blue Lake. As all my cabin friends' parents came, all were excited (some more than others) to see their parents after 2 long weeks. Again, I really didn't miss my family too much so I wasn't eager for my parents to come.
I was the last person in my cabin for my parents to come. I started to worry, thinking that they got in a car accident or something traumatic happened. But I shook off those thoughts, telling myself I was just over thinking it all, and sat watching more and more girls run to their parents. After looking at a wooden table for quite some time, waiting, I looked up and saw my Dad leading my Grandma and Grandpa to see me. Finally. They were here. Surprisingly enough, I got up and started running my Dad. Never in my life can I remember being so excited to see my Dada. So I ran to him. In my concert black flats and my shorter concert skirt, I ran into my Dad's big hug. I felt so relieved and happy. I was glad to be hugging him again.
My Dad is a pretty great guy. He knows all the right things to say and is the best thing you could ask for in terms of being a man; patient.

Thank you for the toast and everything else that you've done for me.
This is your toast.
A toast to you.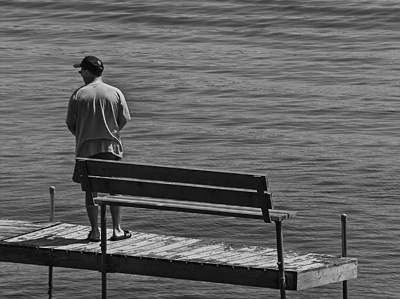 © Sean C., Princeton, IL