The Myth Of Being Popular
August 19, 2010
In a regular high school environment you have the nerds, the geeks, the losers, and then you have the 'popular' people. Everyone seems to be neatly labeled, 'packaged' according to their labels and 'stacked' with others of their kind. The lower classes rarely clash with the upper classes.
In fact, the high school hierarchy is constructed much like a 19th century society, where you can only meet with a certain class of people. This is even more defined if you're popular. Here, you have to respect those higher up than you, whether you like them or not. If one of your friends finds that you and someone else are a 'suitable' match then you are inclined to date that person, whether you like them or not, just to keep your status. Or, if they're higher up than you, you may date them simply to gain popularity, not because you like them. You're surrounded by a fake mass, who laugh with each other when they're together, and laugh at each other when they're not. Does that not remind you of the way society was structured in the past? With arranged marriages simply for benefits, with the need to tolerate some people simply because of their class?
Up until recently, I was in close contact with the popular kids. I was so close to them in fact, that you could easily say I was one of them. Maybe I was. It never felt that way to me, but perhaps I was.
I was like one of the masses. I wanted to be popular, I aspired to be one of those people with the awesome boyfriends, beautiful friends, who get invited to parties every week. Somehow, through a miracle, I managed to slowly climb up the popularity ladder. The process was exhausting. It involved spending hours with people I didn't like, doing things I didn't like, going to parties I didn't care for. It involved a lot of pretending. However, I did end up reaping what I saw.
By the end of it, I did have an 'awesome' boyfriend. I did have 'beautiful' friends. I also got invited to parties every week. There was only one thing missing. I was not happy. After all my hard work, to 'fit in', I had become this completely fake person. My clothes and make up made me look about twenty. My 'friends' 'helped' me fit in, by passing me a cig. Oh, those lovely cigarettes! Every time I tried inhaling, I would go into a wild fit of coughing to the amusement of my 'dear' new friends. My awesome boyfriend had the brains of an orangutan. I could talk to him about absolutely nothing, and the only reason I was actually going out with him, is because people thought he was popular. I couldn't fight my parents on the question of my ridiculously early curfew, therefore, I would sleepover at a 'friend's' house and attend a party from which we returned at about 1 A.M. in the morning. I was wasted. To please everyone else but me, so that I appeared to be happy to all those other people, I had poisoned my life.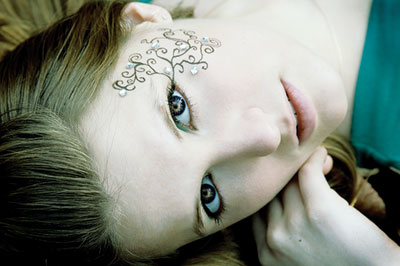 © Michelle B., Blairsville, GA