His Dream
August 18, 2010
It was a week after the quinceanera. A week after a night full of dancing, laughing, and downright fun. Aydee, the quinceanera girl, was celebrating her cousin Ivan's birthday. He was turning fifteen, a big deal too. Walking from outside, I could hear the music pumping, the laughter and squeals from the little kids. My mom opened the heavy, black door and we stepped inside. We found ourselves in the middle of a playful soccer game, ranging little boys from age 8 to 13. We rounded the corner to find it filled with tables and a taco stand. Two piñatas hung on a low string next to the first table. Which was the table my boyfriends parents were sitting at; without realizing it, my mother made a beeline straight to them. It was easier to let my mother know about my relationship with Gerry, and far more pleasant that both our mothers got along.
I remember wearing a knitted, cream-colored dress that stopped just about my knees. I remember the wind was peeling at my skin and my teeth wouldn't stop chattering. Gerry's mom noticed and teased me about knowing it was cold, but that I still wanted to look guapa. I giggled, knowing she was right. I turned my head to the group of teenagers sitting at the farthest table in the backyard. They were around a phone, his phone. I remember he was wearing a black dress shirt, gray skinnies, and red vans. I remember how his skin reflected brightly against his shirt, how his green eyes caught me in his depths. They were watching a funny video about two gangsters dancing, and when he caught me nearing, he motioned for me to sit in the same seat with him. I didn't look at him when I sat, and even being this close to him brought a light pink blush to my cheeks. I kept my eyes on the video, fairly aware of his deep laughter next to me.
Marianna kept glancing at us and smiling a small smile. Michelle was sitting next to me, and I liked her a lot for her friendliness. She made you smile whenever she could. Aydee was dancing along with the music from the video and I found myself asking if Aydee wasn't the one in the video. That earned me a laugh from everyone. Aydee kept urging us to dance with her, but when she just saw us staring at her with an awkward expression, she just moped and called us boring. I giggled, causing Gerry to look in my direction. I smiled and he grinned back. This handsome, brilliant boy can't possibly be for me, I thought. But the fact that he had chosen me spoke for itself. When the video ended, he asked if we knew any more funnies, though before we could respond, the group of little kids gave a loud cheer.
I remember Aydee calling us over to break the piñata, and the way Gerry looked at me as we stood up. I looked away quickly, a quirk of mine that I couldn't stare at his eyes for too long. Too afraid I would turn tomato red. I watched him as he walked with a certain grace; hands in his pockets, taking slow steady steps. From the corner of my eye, I saw his mom watching us. It was obvious both our moms were having a talk about us. The thought made me smile.
The wind suddenly huffed against us, turning the tips of my fingers numb. I brought them to my mouth and huffed on them, the warmth making me realize my face was also cold. The sudden temperature change brought goose bumps along my arms and legs.
''Do you want my jacket?'' His deep voice startled me, his green eyes searching my face. He was already shrugging off his jacket without needing an answer.
''No its fine,'' I replied, rubbing my hands together. ''Then you'll be cold.'' But he didn't listen, he just handed me his jacket.
''Don't worry,'' he responded with a chuckle, ''I've got two shirts on, plus this one. I think I'll be fine.''
I thanked him and let him help me slide my arms through the sleeves. It smelled…like him. It was enriching and intoxicating and smelled like men's' clone. I wrapped the hood around my neck, blushing when he turned and smiled at me.
We talked about our brothers and my sister. Marianna was with us, laughing at anything that was funny. I couldn't get enough of talking with Gerry. It was like breathing: addicting and impossible to stop. His eyes sparkled every time he laughed, and every time my heart sped up more knowing he was laughing at what I was saying. He had a different vibe tonight. He seemed older, maybe a lot more handsome. I loved the way his dark brown hair reflected against his skin. Every time he spoke he leaned in close, barely whispering above all the little kids shouts to break the piñata. Ivan, the birthday boy, kept laughing as he ripped a star's leg off with a bat. I remember this clearly because afterwards, Aydee insisted on cutting the cake. And I remember how they shoved his face in it. Gerry handed me a cake and I handed my sister a cupcake. The cake had Oreos, and so did the cupcakes. To make them look cute, Aydee sprinkled Oreo dust on them, laughing the whole time. Gerry had two pieces and a cupcake.
''Are you going to eat all that?'' I asked.
''No, it's my brother's. Why, just because I'm always hungry huh?'' He joked, ignoring my question.
I choked on my piece of cake, blushing. ''Oh gosh, I wasn't even thinking that way!'' But he was already laughing, making me laugh with him. In that instant I saw a flash; I blinked my eyes to be sure.
''Marianna!'' I heard Gerry say. Marianna was grinning from ear to ear, holding a camera in her hand.
''Aydee told me to take it,'' she tattled. Aydee looked appalled.
''No more pictures,'' I retorted. I wasn't much for photography unless parents asked. Then I couldn't say no.
The night seemed to be passing in a blur for me. It was a night full of laughter, a few winks, dancing, and a slow dance with Gerry. At one point we were observing and teasing Aydee's house, noticing her windows had bars.
''Aydee, what do you do at night?'' I teased. Everyone roared with laughter, not watching Aydee scoff with sarcasm, then grin. I turned to Gerry, a smile on my face.
''The windows in my room are ripped. Well you know that black screen thing; it's completely ripped. A person could fit through there.'' I hadn't realized the double meaning of my words until I'd said them. He laughed, the said, ''Mmmm, you don't have any dogs that could bite me right?'' I giggled, nodding my head.
''Oh darn.''
I remember how he leaned forward. I remember both his hands grabbing the bars behind my head, encaging me in the circle of his arms. I remember the more I stared at his eyes, the more heated my cheeks became. And then I remember his little brother suddenly popping at our side. Gerry pulled away and sighed loudly.
''Brandon, why can't you stay with mom?''
''Because I'm cool,'' was his response.
Gerry turned to me with pleading eyes. I smiled and shrug my shoulders.
''Little brothers,'' he whispered.
I almost had my first kiss. At that moment the song Airplanes came on.
''Right there!'' I pointed to the laptop playing the song. ''That's my favorite song.''
''Really?'' He asked.
''It is today. It might change by next month or next week.''
He laughed. ''Your funny.'' I felt myself blush; I looked away.
''Hey look a star.'' His gaze fell upon the sky, simultaneously taking my hand. The warmth of his hand in mine reminded me that someone was next to me; here with me at this second. Reminded me that I have a boyfriend.
''You sure its not a plane?'' I teased.
He huffed. ''Think it is.''
''What's your dream?'' He suddenly asked. He didn't wait for me to answer. ''My dream is to see a meteor shower. You know, one dark night, and then suddenly the sky is falling with the stars. I think it would be the coolest thing.''
I stared at him. He was still watching the sky, completely oblivious to what my mind was processing. I never knew that about him, and he never even hinted at it. Dreams like his, one that didn't involve music or becoming famous, but so simple. It was like a letter, short but sweet. And it wasn't impossible to have his dream. He would just have to wait a few year maybe.
''I'll watch it with you,'' I whispered.
His gaze finally fell on me. He squeezed my hand and gave a small smile.
And I still remember at the end of the night, when I left early, how crazily he was waving goodbye. I smiled and waved goodbye just as crazy. And walking to my mom's car, I knew I couldn't forget his dream.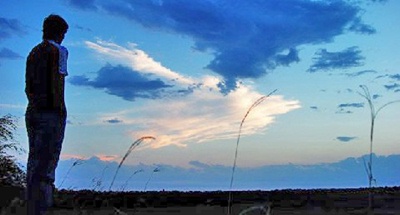 © Stefanie K., Katy, TX