Twisted Messages
August 3, 2010
"Add new screename, sportsstar23" she said aloud as she punched away at the keyboard, "save changes. Ok now are you on or not?" To her surprise, the boy she has been daydreaming about since she laid eyes on him this morning was online. She nervously double clicked on his screename and a little white box opened. So many questions raced through her mind: Should I say something? Or should I wait for him to say something.. Oh wait he doesn't have my screename. After minutes of pacing back and forth she decided to merely say "Hey". Typing the 3 letter word was the most nerve-racking thing she had ever done. After another minute of typing the word, she quickly pressed send and spun around in her chair a few times to get her mind off it. She turned back around and saw he was typing..

"So you sent the message and then what?" sang Hailey in her high pitched squeaky voice later on that night. "I… I signed off before he could reply." Story of her life.

"How was school dears?" Her mom sang as her and her brother Chris hopped off the bus being greeted by two McDonalds Happy Meals or as her mom liked to call them, bags of fat.
"It was fine" said Marley eyeing the bags.
"Yea, it was fine" her little copy cat brother Chris replied.
Both kids grabbed the bags, said their separate thanks and ran off into the house with one hand fill of fries and the other holding the bag.

Marley did her daily after school ritual of kicking her out of style shoes off, throwing her backpack down and jolting to the computer. She quickly typed her password in and left the computer unattended to get a drink. After chugging a Sprite in 2 seconds, a new personal record, she heard a ding 3 times coming from the computer. Marley turned to the computer and could vaguely make out a white box which meant she must of gotten an IM.
Sportsstar23: Who's this?
Sportsstar23: U IM'd me yesterday
Sportsstar23: Hello? Who ru??
She froze in shock and with one hand on the mouse she began to cursor over to the sign out button. "No" she said stopping her hand from going any further, "I'm going to reply." She convinced herself.
Braceface123: This is Marley
Sportsstar23: Do I kno u?
Braceface123: No but we bumped into each other on the playground yesterday
Sportsstar23: Oh
He began to type again. Her heart began to thump out of her chest in hopes for a sweet reply.
Sportsstar23: I don't remember u
After reading that Marley decided that before she gets crushed anymore she replied:
Braceface123: Oh ok
And once again she signed off before he could even answer.

She stared blankly at her note sheet thinking about the words "I don't think I remember you" over and over. Oh well, she thought to herself, just forget it even happened. Marley folded her boney arms and laid them on the table with her head following closely behind. She slowly began to drift off into dreamland when she was startled by the feeling of something being slid under her arm.
"OW" she wailed quietly even though it didn't hurt at all, just her normal reaction to everything.
"Sorry I didn't mean to hurt you" the same black haired boy who told her where her seat was, said laughing.
She glanced at him and smirked "It didn't hurt, just scared me a little."
"Oh, well here" he said while handing her a nicely folded piece of paper like the one she received yesterday.
Marley hastily unfolded it,
"I hope you know he's trying to figure out who you are by asking everyone.."
What? Who was "he"? Wait… Could it be Rory?
She turned to the boy with her mouth open ready to ask the questions but right as the first letter came out of her mouth the bell rang and he ran out of the classroom.

Stuffing the paper in her left pocket she stumbled out of the all around blue classroom and saw Rory standing there talking to the same black haired boy. Marley bolted behind the carpet walls and listened.
"Who is she? I have never seen her before and she IM's me randomly."
"She's in my class" the boy says "Her names Marley."
"Point her out to me next time I'm with you." Rory mutters
"I will"
"Thanks Nick"
Oh so that's his name, Nick.
The two boys walked right passed the wall she stood behind and she peaked out. Once they were out of sight, she grabbed her book bag and headed to the bus with a mind full of questions and only one mouth to ask them all.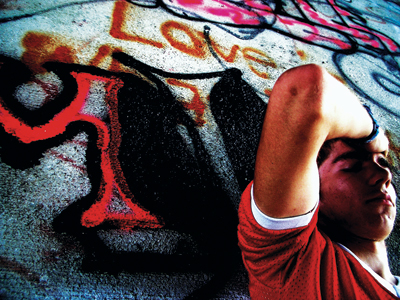 © Sindha A., Champaign, IL