Love Struck (new version)
July 28, 2010
I have been to lots of camps, but I will never forget that camp when I met him. He was not like any other guy I have seen. His name was Nick and he was V-E-R-Y HOT!!

I was at task camp I saw Nick. He had curly dirty blond hair that bounced when he walked. His eyes were two blue eyes with green and gold around the pulp, which was a window to his sole. I saw him when the sun had set and his eyes turned that color, the color of the gold rim around the sun when it goes down. When I watched him walk towards me I could not breathe. He came so close to me, we where eye to eye. I could just smell him. He had an amazing aroma of bug spray and pool water, well to me it smelt like something grate like roses.
I had to look up at him because he was taller than me. We were just staring at each other, reading each other's eyes, looking deep into one another's soles.

Then out of nowhere he pulled me in and gave me the biggest hug that no man has had before. Within that hug my head rested on his chest, I could feel his heart beat. My heart beat felt like it was in rhythm with his, like we were just one person. When he hugged me I felt all warm and fuzzy, and that no harm could come to me. I could not hear anything anymore all the noise just left us. Time felt like it all went into slow motion. The hug felt as if it lasted for hours, that we were the only two people on earth.

I keep thinking to myself I found my soul mate, I found my soul mate. We hadn't said a word and still I felt like I had known him since the begging of time. I couldn't believe that this was happing to me. This must be a dream or a fairy tale or something. It was just so WOW!

I am so glad I met him that we found each other. That was five years ago and I still remember that moment like it was yesterday. I miss him so much I haven't seen him sense then.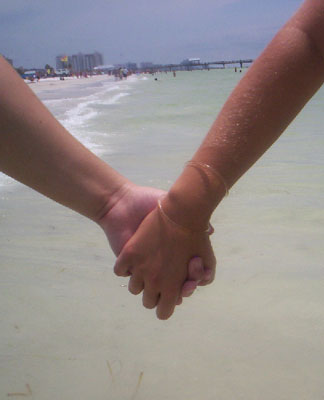 © Belinda H., Palm Harbor, FL