Is Make-Up an Art or a Distortion?
July 27, 2010
Three years ago I was battling this very question and deciding for myself what I felt comfortable with. All my life I have considered myself as a bit of a tomboy. When my friends were plastering their face with base and eyeliner I was rolling around in the hills and riding my horse bareback in the pasture. I didn't see the point of make-up. I didn't feel self conscience with my appearance and really never even really thought about it. The people I did see with it always overdosed on it so to speak, making them look like Barbies or some accidental victim with a black eye.

However, on every topic there are always two sides. If you've ever had a make-over done by a professional than you will recall the magic that occurs as you transform from a 'hobo' to an exotic 'peacock' simply by carefully applying a deep black eyeliner atop the eye lid and a flick of mascara causing a flirtatious lilt of the eyelashes. Really it is astounding. You are still there but you are transformed! Those horrid pimples are mere memories; your eyes are suddenly bigger and wonder of wonders, you never realized that they had so much green in them! Eye shadow is like a new shirt. Each color is a different attitude you're in at the time. You can be excited blue, earthy beige, or a reddish tone with gold sparkles speckled across the lashes. In the end, when done right, you feel fresh and beautiful and can take on anything.

This magic should not be taken lightly though. It can become a negative if you use it in great quantity so that it does more damage to your face than good. It's also a danger when used as a necessity. When your self worth is measured in how big you can make your eyes or how enticing and lush your lips are then it's no more than a mask. It's not honest. Instead of an art, or a fun way of appreciating your outward appearance it has become a farce. There is no sin in loving your exterior, but when you lose touch with your beautiful soul inside, then your interior becomes rather dusty and no one wants to have tea in a cobwebby parlor. That's where the danger is; that is where society slips. When all a mother can teach her child at only eight years of age is how to pamper her outer self then the tragedy begins.

So I can understand the dilemma behind make-up. I can understand why people show disgust over it and cast the whole idea of covering your face up as pish posh. But I'd like to think of it as an emphasis tool for simple accentuating purposes. Is that ridiculous? I do not think so.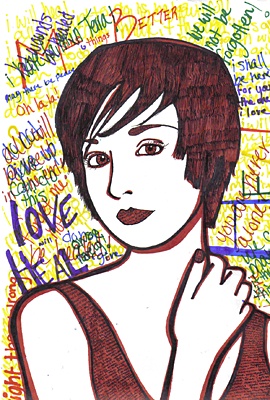 © Sara D., Aiken, SC