Time To Speak Up
July 26, 2010
Life as a pastor's daughter has never been easy and probably never will. I grew up in a conservative church with an old-fashioned, southern father, a group of overly cautious aunts and a very protective mother. I was a dreadfully sheltered child and most days in the summer were spent with my grandfather who let me have my first glimpse of freedom. I would go to his house and we would watch soap operas together and he would let me ride on the lawnmower. Sadly, he had many health problems and died in 2002 which was unfortunate because it would have been great to have him around through the crazy middle school years. Needless to say, life was never the same. I went through a period in my life that was tough and I would have never gotten through it if it were not for a songbook and about a year of trying to hide from my parents and other family members. Secluding myself became easy and so was shutting others out, I only talked whenever I had to for fear of saying how I was feeling. I felt that if I opened my mouth for too long, that my brain would spill out and I would say things I never wanted to say. When you lose someone the only thing that can bring them back are the memories which tend to be more haunting than comforting. And sometimes it is just best to lay low and hope it goes away, but it never does. But life must go on and with pain we grow stronger.

Just getting over the loss of my grandfather, I entered the fifth grade at the school I had been attending since before kindergarten. I knew that he wouldn't be there after school with a smile on his face and something tasty on the stove and because of that the first day was scary for a totally different reason. I entered that classroom knowing that I would have to break the silence that I had been hiding behind since I was a child but I wasn't sure if I could. But I was sure that everyone had informed my teacher Mrs. Taddeo just how quiet, well-behaved and smart I was, considering that was the normal dialogue between the teachers from the previous year and the upcoming one. No one smiled more than Mrs. Taddeo and she always wore some sort of blouse with a flowered pattern on it, sometimes a few problems students would make fun of her and I related to her in that I was made fun of by those same students. She realized early on that my shy and quiet nature was a very clever defense mechanism and would constantly give me little chances to express myself and I just couldn't say what I was feeling. Many teachers would try to figure out why I was so quiet. They would ask me what I was thinking about while I looked out the window during nap time. Some would try art and writing to see if I would respond and though a temporary reaction was normal it would never last.

I never saw myself as someone who would sing in front of people and I was forced as a child to do so. My grandmother and everyone at church would say "she sings just like her father" and I would go up and sing the song I had learned at school or something that grandmother had taught me to sing when I was younger. Don't get me wrong, I loved to sing and it was very relaxing and I would write songs and it was as close to freedom as I could get at that age. But when you are obligated to do so it becomes less fun and more torture. Somehow Mrs. Taddeo learned that I could sing and unexpectedly volunteered me to sing the Star-Spangled Banner when we were studying early American literature. I sang the whole song and little did I know this would not be the end of her attempts to find my voice. Later in the year she once again nominated me to speak. She hand-picked me to be the star of our class play, which was about Esther, the Jewish queen who hid her identity from her husband and did not speak on behalf of her people when the very wicked friend of the king plots to annihilate the Jews. My story was similar to Esther's, in that I was afraid to speak my mind even if it would save my life.

I slowly became more social and I didn't even realize then that one play would turn everything around for me. She took our class later in the year on a field trip to the theatre in Quincy and we saw Oliver Twist. I switched schools after fifth grade to a small school in Tallahassee where I found that my love for music ran deeper than I thought it could because once again I was tossed towards the stage. Soon I was finding that I enjoyed speaking in front of people and felt how I had when I was riding on the lawnmower in the huge backyard, it was a sense of independence that I was regaining and when I started I couldn't stop. But all good things must one day come to an end and sooner than I could turn around to stop and smell the roses I was in seventh grade at the biggest Christian school in all the county. I had no friends and felt like a piece of dust trapped at the bottom of a glass vase just waiting for the wind to come and save me from the scent of artificial flowers and the fear of being alone at the bottom of the vase. But like the rainbow after a huge storm I was relieved to be leaving and going back home to my old school.

With a newfound confidence I was sure that eighth grade would be a better year, it just had to be! I knew that I would have to find new friends to replace the nonexistent ones I had before so I automatically gravitated toward three other students. Diamond had been at school before I left and for some weird reason we weren't close friends before eighth grade year. Then there was Dennis who was quiet at first and then before too long you would realize his special talent, breaking the silence by saying the craziest things, like, he would claim words in English class by saying," That's my word" and that somehow made every bad day a better one! Last but not least was Chase who was my rock and would make me laugh in the middle of class by doing outrageous dances that Dennis taught him. I don't talk to Chase anymore because we don't know where he went, one day he said he would call and the next, I never heard from him again. With friends like these who needed the stress of daily life!But as soon as I found friends, I was forced to leave them. An opportunity my parents could'nt afford to pass up arose and I knew that once again I would have no freedom to say "no" or compose some sort of opinion. That's how my happy childhood turned unhappy. I left my old school and eventually found friends, which is a different story entirely, and you dont even want to know about my new group of friends!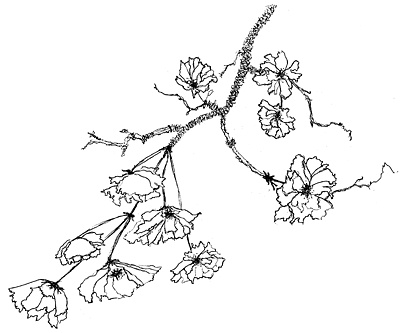 © Marybeth L., Hamilton, NY