Cold & Warm
July 24, 2010
It was raining outside. Now the whole things in my life were running and crying with no shoes, no umbrella in the rain. I thought I had no fault at all. There was no reason to say I did something wrong. Then the pictures flashed through my mind.

One hour before, I was in my room alone with all the homework finished. My mother thought I was studying, but I had finished already. So I took out my tiny novel about someone's high school life, and I started reading. When I'm doing this, my mum came in. Suddenly she looked angry. When I noticed this, she walked to me fast, and took away my book.

"What are you doing? Do you know you are in Grade 9 now. You have to work on your school things all the time!" Mum shouted. (In China, there's an important exam between Grade 9 and Grade 10. It's just like the SSAT test here in USA.)

"I know. But I have finished all the things I have to do."

"Then you can preview the text book. Just do something for tomorrow's class! How can you just leave your work then go to read this kind of boring book?"

I was angry too. I wanted to change my life because all the Chinese parents were like this, endlessly finding your problems. It was really annoying. "How can't I have some free time? You know the study in Grade 9 is too busy. I'm almost lost myself!!"
She even didn't know me that well. "Although there's too much pressure, you still have to do something that can help your study!" I felt really cold.

Suddenly, it was raining outside. I ran out of my room, and slammed the door, then cross the living room, ran out of my home. My mum even didn't follow me, that seemed like she wasn't care about me. Sadness, coldness spread over my body. I kept running with tears in the rain, feeling cold outside, then I dropped down. I got hurt in my heart. Just thought about what she said, she didn't even know me. This was so sad. However, I had to be independent, be more brave. I stood up by myself, checked there was hurts in my hands and knees.

"It's okay." I told myself. On my way home, I met my mother. Actually, I didn't want to see her now, but I had to see her because we were facing to each other. She was wet too, though in her left hand, there was an umbrella. She looked worried about me. Then she seemed that she was happy after she saw me.
"Hey, baby. What's wrong with your knees? Oh! And your hands!"
"It's okay." I felt a little bit happy because I felt her love.

"I know I'm not good at expressing my thoughts. I'm so sorry about shouting at you." I felt her sorry. It was getting warm inside.

"Mum. I think I can do better next time. But I think I deserve to relax after busy study." I wanted to be a nice child in her eyes, actually I thought I was a good student.

"Oh. I know, I know you really need to relax. Ok. After you finished the homework you can do whatever you want to relax yourself. Hey, here's the umbrella."

I found the happiness in her voice because we are agree with each other. And she was cared about me. This is the most important thing. We went home under one umbrella with love around us.

This night was silent except the rain. It was cold outside, but warm inside.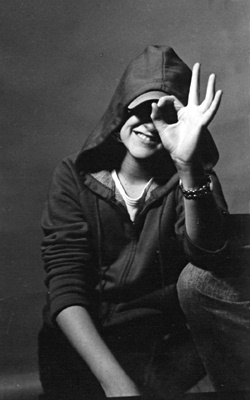 © Tori D., Marblehead, MA