Pounding the Pavement
July 13, 2010
Twenty minutes into my run, sweat droplets are already slipping down my back, and I'm struggling to remember why in the world I do this. But it comes back to me after one early morning of lacing up for a father-daughter run, one minute of listening to the sound of clamorous chattering and rhythmic pounding of shoes on the pavement, one instance of reaching the end of a run and feeling invincible.
Wipe away the sweat, the labored breathing and sore legs, erase the daunting hills, and running is three things to me. A bond with my dad. A team connection. A feeling of strength.
Running and I have had an uphill relationship, though. Until a few years ago, my running routine consisted of an occasional reluctant jog, which usually quickly dissolved into a resigned walk. But what began as a travail for me grew into a priceless father-daughter bond, team connection, and strength.
It all began with my dad, the man who knows most faces at any local 5k race and has way too much spandex for any daughter's comfort. Many a weekend morning saw him gearing up for a marathon or triathlon, and running gear has been ubiquitous in our house for as long as I can remember. Yet despite my dad's persistent nudging, for years I viewed running as a painful chore and doubted that this sentiment would ever change. Whether from a latent running gene or my dad's infectious enthusiasm, though, change it did. At some unidentifiable point, my dad's passion for running stopped seeming bizarre to me and became a key element in my life also. Through busy days and family spats, running ties us together. We share the soggy, beat-up shoes and jogs out into the early-morning crispness like an odd type of friendship necklace.
In my dad I have, as well as a "Runner's World" database and running buddy, a live-in cross country coach. This is by turns useful and exasperating, yet I doubt I have would have had the drive or guts to join the cross country team without my dad's urging.
Because of this push, I discovered that there are actually people as crazy as me and my dad. People who will get up before 6 am in the summer to go run. People who will head out, running shoes tightly laced, even as the sky cracks open and soaks them in minutes. People who actually choose to run for an hour without stopping. In other words, the cross country team. We stop in relieved exhaustion at the end of our runs, wiping sweat off our faces and rejoicing that we're finally done, and yet each run is pushed along by lively chatting and camaraderie.
This, of course, is the fun part of cross country. Once the warm chatter and pasta dinner festivities fade, the unpleasant part begins: racing. I suppose, as a cross country runner, I should enjoy the rush of racing. I don't. But there is an incomparable power in running that is an addictive spark for me. Flying down the path, in rain or shine, even with sweat dripping off me, I am invincible. I'm a timid, 5-foot-2 little damsel, but in that moment, I am strong.
Whether I win or lose the race, running is something that I can truly do, and all of this—the father-daughter bond, the irreplaceable team, the strength—makes it worth all the sweat and pain.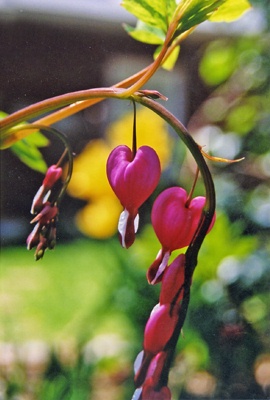 © Sophia E., Wilmington, DE