Thoughts in the Rain
July 11, 2010
Pit. Pat. Pit. Pat.
Rain. Rain is tranquil. Rain descends to earth in its own timely fashion, breathing life into all that makes their home here. Rain is more than that though, Rain likes to reminds us that it is not always as soft as a mothers touch.

Pit. Pat. Pit. Pat. Pit. Pat.

Sometimes, it says it is as hard as coconuts pounding the soil. Rain causes floods and landslides to come and decimate the landscape. Rain drizzles, and pours. Rain is lasting, and fleeting. Rain brings beauty to the earth. Truly there is nothing more beautiful than a forest after the rain. The cool drops of water make the forest sparkle, and the leaves seem to transform into a lighter shade of green, the ground is soft and damp underfoot and you can hear all the birds laughing as they come out from their nests, happy to have escaped the freezing bath Rain brings.

Pit. Pat. Pit. Pat. Pit. Pat. Pit. Pat.

Water drips down from the eaves in the city, and trickles down the streets and into the gutters. Darkened parking lots wet from Rain reflect light and seem to glow in the surrounding dusk. Crickets chirp, and trees shake themselves dry, disgruntled that Rain has wet them so.

Pit. Pat. Pit. Pat. Pit. Pat.

Far off in the distance you can hear faint thunder as the storm moves west, a vague reminder of Rain's torrents from before. The echoes of battering Rain still hum in your head as you listen to the dripping outside your window. If you step outside everything feels pure and fresh. Even the air smells crisp, as if Rain has washed the sorrow and despair away down below into the deep city.

Pit. Pat. Pit. Pat.

Rain is a reminder. Rain speaks to the inner mind and soul. Rain speaks of death. Rain is cold. Rain is cruel. However, Rain is also life. Rain is a comfort. Rain is inspiration. Rain is rest. Rain is the joy on a child's face when they look out the window, smile and laugh, simply because it is raining.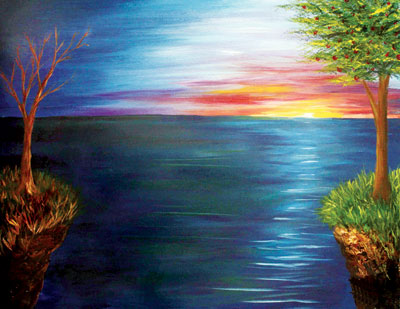 © Ariel G., Moses Lake, WA