Howdy
July 2, 2010
I didn't think I would fall for him. In fact, until recently, I couldn't stand him. Being in the near proximity of him made me feel sickened. I can't explain it. Why I felt this way. He was perfect for me. With his perfect dark brown hair cropped short and his deep green eyes he wore so proudly. Any girl would be wooed by his perfect beaming smile that looked adoringly at her. This, was in fact, how he looked at me. He held me to such a high standard. One could clearly see he was infatuated with me. Only God knows why.

It's funny what can attract a man. I with most put on my girlish charm and acted as if I was the hottest thing that ever was. (which is true to some accounts) With him, however, it was different. The fact that I cared very little about his opinion of me had very much to do with it. I would say what was truly on my mind and act in ways that were not considered the standard of normal.

I told him everything. From the ghost that dwelled in my house that was clearly a woman due to the fact that I could sense her estrogen (or at least this is what I told him). To my family life. I know, I know, I took advantage of his adoration. He actually listened. As he listened to me, I began listening to him. We drew close.

You may wonder why I could not stand him. I find this to be maybe a problem within myself. Or maybe he came off too strong. I was afraid. Not used to being loved with so much gusto. I was scared of being swept away on a place of no return. I wanted to be free to like whomever I wanted whenever.

He chased me for months while I ran. I searched elsewhere for the love he provided me. I was so blind to him really. It's funny how you always hear that the obvious answer is always right in front of you.

As I saw him walking down the hallway one day at school I realized what a fool i'd been. His face, carved by angels, avoided my gaze (even though he knew I was looking). I'd been his heartbreak. I came to the conclusion that I was ready, and it was time.

Facebook later that night, I wrote the fateful facebook chat message of "howdy."

Little did I know that this very long facebook chat conversation would lead to endless summer days of romance that swept me away like I was once scared to be. I was still scared, but he took my hand saying "It's okay, I love you, and we're perfect for one another."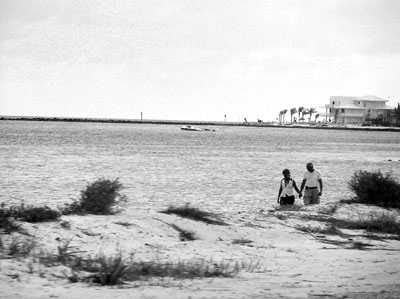 © Edgard B., Coral Springs, FL