My Best Friend JaJuan
June 26, 2010
In the 7th grade i was the booknerd/willing loner. I had only 1 friend and we drove each other nuts. In my school, i deliberatly ignored everyone and they ignored me; they didn't want to know me and i definetly didn't want to know them. I did everything to go under noticed, my hair was in a nappy bun, my clothes either too large or too small. I had even perfected a back off glare. I had that one friend, but if you had asked me then i would have said whatever book i was reading at the time. My mom and i forever argued about my grades or really my lack of them. But what had me frowning the most was 2nd period, english with Mrs.Traverson, she liked to have kids be partners. Sadly we had an uneven amount of students, i was the odd one out.
On the same day i had the humiliation of being left out, my only friend and i got into a huge fight, and i got my horrible report card. On that very day, i met my new best friend.
He had just moved into the house one door from mine. He had 1 brother and 2 sisters and his mom. His name was JaJuan and he's gay. Which turned out to be a blessing for me. JaJuan and i hung out around the neighborhood often always together. He helped me find my personality, he made me get rid of my baggy clothing and get more well fitting clothes, he made me take my hair down and run a comb through it. We were both shocked to see that my hair went to the middle of my back and had serious curls. I smiled and laughed at school; instead of glaring at everyone i smile and said hi, shocking everyone including my mom. JaJuan and i were as close as you can get. It's been 2 years since JaJuan and i met, since last year i moved from Il, to AZ. But we still talk on the phone, and when i get off the phone, i'll still be giggling from the inside jokes we shared. JaJuan is my idol and best friend, he helped me be me, when no one else could.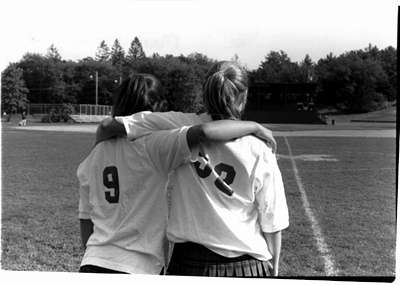 © Kelley C., Marblehead, MA