Letters To Grandma, And Then Some
June 26, 2010
Fifth grade is the best year of a lot of kid's lives, spent living it up as the oldest kids in school, along with graduation practice, safety patrol, and preparing for middle school. Fifth graders shouldn't have a care in the world, but when I was in fifth grade, my grandma committed suicide.


I spent a lot of that year writing letters to her while she was in the hospital, letters that I never read to her. She was blind in her last years and giving her a letter would mean that my Dad would have to read it to her, and I couldn't imagine my Dad reading what I had to say to her, especially since most of it was trying to convince her to stop dying.


In the unspoken letter, which is now tucked away in a box in my room, I asked why I wasn't enough for her to stay here with the breathing. I didn't understand why she wanted to disappear if she had such a loving family here- what was there for her in heaven? Everything she needed was here, and I wish she knew that I needed her, even if she didn't think she needed me. Instead of giving her that letter, I have her a lighthearted one, telling her about my life and ending it with a feel better soon.


After her funeral, my cousins and I were all in my room and my grandpa walked in and overheard something I said to my younger cousin. I was numb at the time and didn't really hear the words come out of my mouth, but I said "I feel like Grandma has been dead for a long time, she was never around anyway, it doesn't matter." The look on my grandpa's face, normally covered in smile wrinkles, turned to stone. The look on his face was one I'll never forget. He then stated in an even, too cool voice "Your grandmother wasn't dead to me," and then he swept out of the room.I sat there in an awkward silence for a while, and then I went downstairs and said nothing to my grandpa. I wish I could apologize, I wish I had apologized, but I didn't.


So for all the times I wish I could have opened my mouth, I'm sorry grandpa for saying that grandma was dead to me before she died. I take back those words, as they were only said in state of utter disgust and anger.


After she died for real, I remembered the letter, all crumpled and worn out from rereading it time and time again, stuffed in that box in a drawer. I took it out and stared at it, praying to God that my grandma would hear me so she would know I cared. The unspoken letter remains crumpled in that box in my room, and those things that I wish could have been said out loud are forever trapped on that piece of unforgiving paper.


Fifth grade is supposed to be a careless year, but when I was in fifth grade, my grandma committed suicide.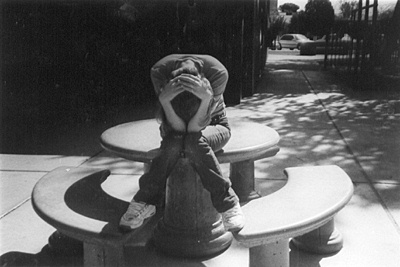 © Catherine R., Phoenix, AZ