Different
June 13, 2010
I stared at myself in the mirror. My summer break had started and once again I made a promise to myself to get thin. Every time I looked at a picture of myself when I was four years old and compared it with what I looked like in the mirror, I could feel my heart break. Anger seared through me as I grabbed my pillow off of my bed and hurled it against the wall.

I sat on the bed with my head in my hands, silently sobbing.

You'll never be thin. You'll never be pretty.

The voice kept echoing through my head as I gripped my hair with my fists and tried to yank them out of their roots. They were thinning anyways, so why not make it easier?

Just then, my cell phone beeped. A message had come from my friend. Through tear-stained eyes, I read it.

'We're going to McDonalds. Please come.'

McDonalds. A fast-food restaurant where people would whisper at me from behind their hands if I bought anything. Sitting with my friends feeling self-conscious that I didn't fit in with them. They were all thin, gorgeous. Unlike me, fat and ugly.

They always told me that it doesn't matter what you look like, it's who you are that matters. Bullshit. They didn't know how I felt. They didn't know how conscious I was about how I looked. They didn't know how pieces of my heart were torn away when I went to buy clothes and I saw a cute t-shirt that I knew wouldn't fit me. They didn't know anything.

How could anyone know how I felt? It was like telling a lion to represent a deer. They had different needs, different feelings.

As I stood up, I became aware of the fat that was hanging off of me from almost everywhere: my cheeks, hips, stomach, back, buttocks, almost everywhere. Every time I moved, they moved as well and when I stopped, they would continue moving slightly. Does anyone know how that feels? How humiliating that is? To feel bits and pieces of your body moving all the time, and you can't stop them? Of course you can't. Not unless you're a fat person.

No-one knows how I feel, unless they are like me – different.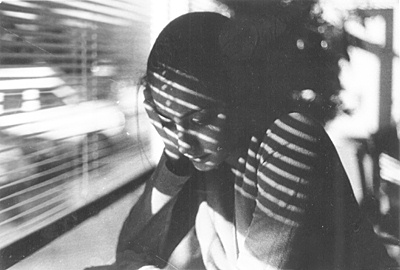 © John O., New City, NY