The Mud Pit
June 15, 2010
The black of night draped over Wheelersburg as I drove peacefully anticipating the night with my friends. I approached the Ruby's residence where I noticed the charcoal colored car of Erica Schmidt, whom I thought was just arriving as well. When I inched closer Erica sprung out of her car, like a Jack in Box with her hands flaring in every direction. Pushing my red hair back I chuckled and murmured, "And the night has begun." Knowing Erica and her eccentric, fun personality I assumed she was as pumped as I and was just waving at me. There were already several cars at Sadie's and the yard was mushy from the quantity of precipitation we received earlier that day. With this in mind I parked my burnt orange car halfway on the road and halfway in the grass. As the engine went silent I opened my door, where in just a matter of seconds I was greeted by Erica. Before I could get a peep out her pony tail flew every which way while she screeched in her panic voice, "My car is stuck!"

My heart sank because I had parked directly behind Erica! I jumped back in and revved the engine back to life and gulped as I put it in reverse. Relief came in a giant wave as my car went smoothly backward and my pulse returned to normal. Assuming it was because of my divided parking idea I could now laugh at my feeble friend! "Come push my car out!" she whaled at me! Shivering I retorted, "It's cold, muddy, dark, and late!" she grunted and unwillingly followed me inside stomping as we went.

Greeted by our clueless friends, worry wart, Erica, exclaimed throughout the warm comforting house, "Todd! My car is stuck!" and the head of the house hold, Todd Ruby, came bounding up from the basement, all five feet of him. As he went out to observe the current situation with the victim, the hysterical laughs from the rest of us could be heard for miles. The two sauntered back inside after a few moments as the old man deliberated that it was best to let the ground freeze and deal with the situation at dawn's break.

With a fun, exciting night behind us the sun soon rose faster then we had hoped. After consuming delicious cuisine prepared for us we danced with eagerness to examine the sports car! The smell of the kitchen lingered in our noses as we dashed outside into a fresh white blanket of snow. "Hold it!" Katie chirped a little too loudly for the recent hour. "I have to get my video camera!" Katie soon returned grasping her tiny pink device. Sadie, Erica, and I went to observe the mess Erica had gotten herself into the previous night. Sure enough her front two tires were still deep in grimy mud! Now the million dollar question was how were we going to get it out!

We finally mustered up a plan to maneuver the Eclipse out of the nasty pit of doom. We discussed the game plan and Erica jumped into her unfortunate vehicle and rolled down the ice kissed window. Sadie took charge, yelling out orders left and right. "Turn left! Right! Sharp Turn! Stop! Go! Go!" After several minutes of her loud instructions the vehicle was mud splattered and so was Sadie! It was back to the drawing board for plan B.

As I started to return to the front porch for a different angle of the chaos I walked at an average pace back. Before my tired body could reach the porch I had to cross the icy, treacherous, death lane, the driveway! I nonchalantly walked down the sloped drive, without a thought or a care in the world. Out of the blue my arms were going wild in the air, scrambling for something to grab, my feet were in midair, and for seconds life seemed to stop. After what seemed like an eternity my bottom slammed down onto the hard, ice cold cement! I immediately, but cautiously returned to my feet realizing Katie caught it all on tape and the other girls were laughing uncontrollably from the calamity.

Sadie then thought of a genius idea and Plan B was soon in action. Erica got right back into her mud splattered car and started it up. Sadie instructed her to turn her wheel to the left and step on the gas, knowing that this would get her nowhere. The rest of us observed in curiosity, anticipation, and what would soon be amazement. Sadie grunted and groaned as her frail, less the 100 pound body pushed on the vehicle. After a few seconds the car was liberated from the muddy trap and cursing down the pavement.

We all rejoiced and were flabbergasted with what had just occurred! We could still not believe our eyes as Sadie flexed her muscles for the shaking camera that caught deafening cackles of Katie. As Erica whipped her automobile back around we all made sure she didn't park in the now disgusting lawn. She danced her way out of her car with a relief-wiped face and glared at the filthy mess. With that one look she flipped, "My poor baby!" she whaled in repulsion. Before we could begin to snicker at her reaction she had gone inside and returned with a bottle of Windex and paper towels. We watched in curiosity and bewilderment as she began to use the Windex on the charcoal hood. The gang and I darted over to Erica slapping her upside the head for her OCD moment. After the giggling ceased we disarmed her and went inside to watch the captured comedy unfold on Sadie's big screen.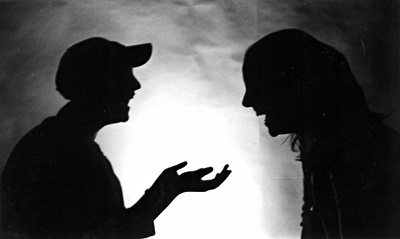 © Jeff A., Marblehead, MA