Baby Katie
June 4, 2010
"What's happening to her?" I was panicking. My aunt ignored me and kept looking at the wall in front of her.

I was sitting on the couch with my knees o my chest and had my arms wrapped around them here I was, a five year old girl, terrified at what wad happening only six feet away from me.

I watched as five paramedics crowded into my aunt's living room. The room went from a nice quiet place to looking like a mini-hospital with all the machines beeping.

He paramedics were all surrounding my sister, who was lying on the ground. They were giving her CPR.

"She's going to be okay, right?" I shouted, hoping someone would answer me this time, "Right!?"

One of the paramedics turned his head to look at me. He didn't say anything but the look on his face said it all.

I looked away and put my head down between my knees all I could think about was what had just happened in the last ten minutes:

My sis and I were staying at our aunt and uncle's house for the weekend while my parents worked. Just as usual m one-year-old sister was taking a nap. When my aunt went to go and check on her, she cam out holding my sister in her arms. I looked at her and saw that she wasn't herself. She looked like a soulless body.

"Call 911 now!" my aunt yelled at my uncle. She had a look of panic on her face. "She's not breathing!"

I looked up at my aunt, confused by what she was saying. I looked at my sister again, and I noticed that she wasn't breathing like my aunt had said. My sister's face was blue and lifeless.

I knew that she wasn't getting any air. All I could think about was that she needed oxygen.

Beep…Beep…Beep.

I quickly lifted my head up and realized the paramedics arrived. They had already set up their machines. I saw the paramedics scrambling around my sister, trying to save her life.

Shortly after the paramedics arrived, they immediately performed CPR on my sister. No one really said much. The only sounds I cold hear were the machines that the paramedics had brought with them.

'We need to take her to the hospital," one of the paramedics told my aunt. He was the same one who had given me the look of panic.

The second after he said that, my parents came through the door and into the house. All of the sudden, I jumped up and ran over to my mother. I held onto my mom's leg and heard her crying quietly. I knew the kind of pain it must have brought her to see my sister look like that. All I could hear were the machines beeping around me and right at that moment, I realized that everything was going to go down hill from here.

My aunt turned toward my mom. "They need to take her t the hospital," my aunt muttered, looking at my mom and dad, then at the paramedic.

"Okay, my husband and I would like to ride in the ambulance with you," my mom said quietly to the paramedic. Behind him I could see two other paramedics carrying my sister to the ambulance.

"Yes, of course," the paramedic told my mom and dad.

My mom kissed my forehead and I went to hug my dad's leg.

"You're going to stay with your aunt and uncle for a little while," my mom explained to me.

I held back the tears and said, "Okay, I love you."

"I love you, too," she said, half smiling, trying to hide her sadness.

Then she and my dad walked outside, and I watched them get into the ambulance and drive away.

I quickly walked back over to the couch where my aunt and uncle were sitting down in silence. I sat between both of them, and quietly prayed to God that he would protect my sister.

One month passed since the paramedics came and took my sister to the hospital. I had stayed with my aunt and uncle and sometimes my grandma. My parents stayed at the hospital with my sister every day.

Every day had been the same for the past month. While I was at my aunt, uncle or grandma's house, we would just hang out. We would talk about hot my sister was a little bit, but not much. When we did talk about her however, it made me happy because I didn't get to see her that often

So, every day had been the same, day in and day out except for today. Today was different.


I was at my aunt's house and my grandma came and picked me up, just like she had every other day, except we didn't drive to her house; instead we drove to my house. The whole ride there was silent.

When we got to my house and walked inside, I saw my great grandma standing by the table, and I saw my parents sitting on the couch. I could tell that my mom had been crying and my dad had a blank expression on his face.

I walked over to my mom and sat next to her. She brushed a strand of hair behind my ear and looked at me with tear filled eyes.

"I have some very sad news to tell you, sweetie," she said to me. I just looked at her, waiting for her to tell me what was going on. "Honey' your sister, Katie, she--" she began to tear up again; she took a deep breath and continued, "She's gone."

I looked up at her. "What do you mean?" I could see her eyes water up with more tears. "She's in heaven now."

I look at my dad, who was looking down at the floor, and then back at my mom.

"She's in heaven now," I quietly repeated. She's safe now, I though to myself. I turned to look at my dad again and saw that he was crying. I looked at my grandmas and both of they were holding back tears.

I rested my head on my mom's shoulder, and I could feel my tears start to soak her shirt.

March 26, that's the day I'll never forget. That's the day I found out my one year sister had died.

It's been eight years since she passed away. There isn't one day that I don't think about her. Her passing away was the most horrible thing that has ever happened to me, but I always have to remember that God makes everything happen for a reason.

I know that my sister was born for a reason and she died for a reason. I'm not sure what the reason is, but that's how life is. It was her time to go and through the years I've learned to accept that.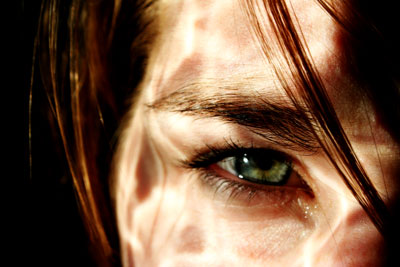 © Monica L., St. George, UT